Luliconazole - CAS 187164-19-8
Luliconazole is an azole antifungal drug. As a 1% topical cream, luliconazole is indicated for the treatment of athlete/'s foot, jock itch, and ringworm caused by Trichophyton rubrum and Epidermophyton floccosum. Luliconazole is an antifungal that belongs to the azole class. Although the exact mechanism of action against dermatophytes is unknown, luliconazole appears to inhibit ergosterol synthesis by inhibiting the enzyme lanosterol demethylase. Inhibition of this enzyme/'s activity by azoles results in decreased amounts of ergosterol, a constituent of fungal cell membranes, and a corresponding accumulation of lanosterol. (copies from http://www.rxlist.com/luzu-drug/clinical-pharmacology.htm).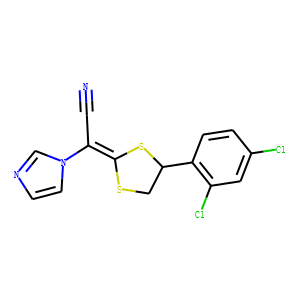 Molecular Formula: C14H9Cl2N3S2
Molecular Weight:354.28
* For research use only. Not for human or veterinary use.
Synonym
| | |
| --- | --- |
| Synonyms | 187164-19-8; Lulicon; Luzu; NND-502; PR-2699 |
Property
| | |
| --- | --- |
| Molecular Formula: | C14H9Cl2N3S2 |
| Molecular Weight | 354.28 |
| Target: | Antibiotic |
| Solubility | >17.7mg/mL in DMSO |
| Purity | ≥95% |
| Storage | Store at -20°C |
Computed Descriptor
| | |
| --- | --- |
| InChI | 1S/C14H9Cl2N3S2/c15-9-1-2-10(11(16)5-9)13-7-20-14(21-13)12(6-17)19-4-3-18-8-19/h1-5,8,13H,7H2/b14-12+/t13-/m0/s1 |
| InChIKey | YTAOBBFIOAEMLL-REQDGWNSSA-N |
| SMILES | C1C(SC(=C(C#N)N2C=CN=C2)S1)C3=C(C=C(C=C3)Cl)Cl |