JW74- CAS 863405-60-1
JW74 is an efficient and specific inhibitor of the canonical Wnt signaling. JW74 shows a reduction of canonical Wnt signaling in the ST-Luc assay with IC50 values of 790 nM.
IC50 value: 790 nM
Target: Wnt
JW74 increases concentration of AXIN2 and decrease the active form of β-catenin in SW480 colorectal cancer cells. [2] The tankyrase-specific inhibitor JW74 affects cell cycle progression and induces apoptosis and differentiation in osteosarcoma cell lines.[1]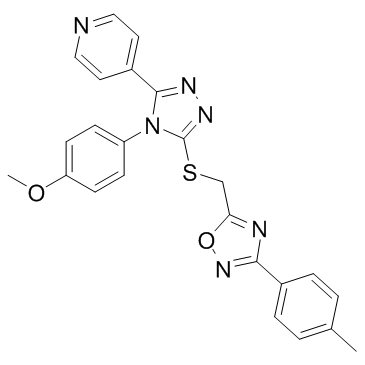 Catalog Number: I005177
CAS Number: 863405-60-1
PubChem Substance ID:355048997
Molecular Formula: C24H20N6O2S
Molecular Weight:456.5
Purity: ≥95%
* For research use only. Not for human or veterinary use.
Synonym
| | |
| --- | --- |
| Synonyms | 4-[4-(4-methoxyphenyl)-5-[[[3-(4-methylphenyl)-1,2,4-oxadiazol-5-yl]methyl]thio]-4H-1,2,4-triazol-3-yl]-pyridine |
Property
| | |
| --- | --- |
| Molecular Formula: | C24H20N6O2S |
| Molecular Weight | 456.5 |
| Target: | tankyrase |
| Solubility | 10 mM in DMSO |
| Purity | ≥95% |
| Storage | Store at -20°C |
| IC50 | 790 nM |
Computed Descriptor
| | |
| --- | --- |
| InChIKey | KRIKILRRJCIWNB-UHFFFAOYSA-N |