Etoposide- CAS 33419-42-0
Etoposide is a semisynthetic derivative of podophyllotoxin and a substance extracted from the mandrake root Podophyllum peltatum. Possessing potent antineoplastic properties, etoposide binds to and inhibits topoisomerase II and its function in ligating cleaved DNA molecules, resulting in the accumulation of single- or double-strand DNA breaks, the inhibition of DNA replication and transcription, and apoptotic cell death. Etoposide acts primarily in the G2 and S phases of the cell cycle. Check for active clinical trials or closed clinical trials using this agent. (NCI Thesaurus).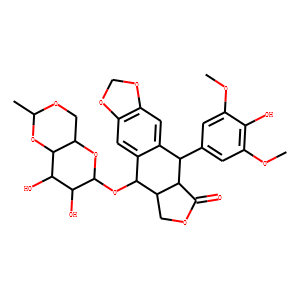 Molecular Formula: C₂₂H₂₉FO₅
Molecular Weight:588.56
* For research use only. Not for human or veterinary use.
Synonym
| | |
| --- | --- |
| Synonyms | VePesid; Toposar; Trans-Etoposide; Lastet; (-)-Etoposide |
Property
| | |
| --- | --- |
| Molecular Formula: | C₂₂H₂₉FO₅ |
| Molecular Weight | 588.56 |
| Target: | Topoisomerase |
| Solubility | >29.4mg/mL in DMSO |
| Purity | ≥95% |
| Storage | -20°C |
| MDL | MFCD00869325 |
Computed Descriptor
| | |
| --- | --- |
| InChI | InChI=1S/C29H32O13/c1-11-36-9-20-27(40-11)24(31)25(32)29(41-20)42-26-14-7-17-16(38-10-39-17)6-13(14)21(22-15(26)8-37-28(22)33)12-4-18(34-2)23(30)19(5-12)35-3/h4-7,11,15,20-22,24-27,29-32H,8-10H2,1-3H3/t11-,15+,20-,21-,22+,24-,25-,26-,27-,29+/m1/s1 |
| InChIKey | VJJPUSNTGOMMGY-MRVIYFEKSA-N |
| SMILES | CC1OCC2C(O1)C(C(C(O2)OC3C4COC(=O)C4C(C5=CC6=C(C=C35)OCO6)C7=CC(=C(C(=C7)OC)O)OC)O)O |