iso-Valeraldehyde- CAS 590-86-3
Iso valeraldehyde (Cat No.:R023557), also known as 3-Methylbutanal; NSC 404119; β-Methylbutanal, iso valeraldehyde is naturally found in the essential oils of citrus and lemon. It is an intermediate and chemical raw material for the drug antispasmodic agent Neoguardine, and also used as rubber accelerator and food flavor.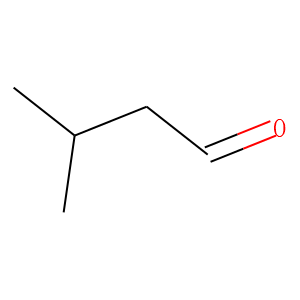 Molecular Formula: C5H10O
Molecular Weight:86.134
* For research use only. Not for human or veterinary use.
Synonym
| | |
| --- | --- |
| Synonyms | 3-Methylbutanal; 3-Methylbutyraldehyde; Isovaleraldehyde; 3-Methyl-1-butanal; 3-Methylbutanal; 3-Methylbutyraldehyde; Isoamylaldehyde; Isopentanal; Isovaleral; Isovaleric aldehyde; NSC 404119; β-Methylbutanal; |
Property
| | |
| --- | --- |
| Molecular Formula: | C5H10O |
| Molecular Weight | 86.134 |
| Purity | ≥95% |
| Storage | -20°C |
Computed Descriptor
| | |
| --- | --- |
| IUPAC Name | 3-methylbutanal |
| InChI | InChI=1S/C5H10O/c1-5(2)3-4-6/h4-5H,3H2,1-2H3 |
| InChIKey | YGHRJJRRZDOVPD-UHFFFAOYSA-N |
| SMILES | CC(C)CC=O |