Ibutamoren Mesylate - CAS 159752-10-0
Ibutamoren mesylate(CAT: I002024), also known as MK-677, is an oral non-peptide agonist for active GHSR. As a growth hormone (GH) secretagogue, it stimulates GH to release through the pituitary and hypothalamic receptors distinct from GH-releasing hormone receptors. This product is used for medical research and development and other scientific research purposes.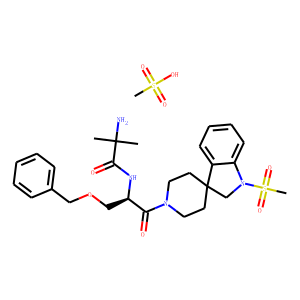 Molecular Formula: C27H36N4O5S ? CH3SO3H
Molecular Weight:624.8
* For research use only. Not for human or veterinary use.
Synonym
| | |
| --- | --- |
| Synonyms | Ibutamoren; MK-677;MK-0677;MK 677 |
Property
| | |
| --- | --- |
| Molecular Formula: | C27H36N4O5S ? CH3SO3H |
| Molecular Weight | 624.8 |
| Target: | GHSR |
| Solubility | 10 mM in DMSO |
| Purity | ≥95% |
| Storage | Store at -20°C |
| Related CAS. | 159634-47-6(free base) |
Computed Descriptor
| | |
| --- | --- |
| InChI | InChI=1S/C27H36N4O5S.CH4O3S/c1-26(2,28)25(33)29-22(18-36-17-20-9-5-4-6-10-20)24(32)30-15-13-27(14-16-30)19-31(37(3,34)35)23-12-8-7-11-21(23)27;1-5(2,3)4/h4-12,22H,13-19,28H2,1-3H3,(H,29,33);1H3,(H,2,3,4)/t22-;/m1./s1 |
| InChIKey | DUGMCDWNXXFHDE-VZYDHVRKSA-N |
| SMILES | O=C(N1CCC2(C(C=CC=C3)=C3N(S(C)(=O)=O)C2)CC1)[C@H](NC(C(C)(N)C)=O)COCC4=CC=CC=C4.OS(=O)(C)=O |