GNE-9605 - CAS 1536200-31-3
GNE-9605(Cat No.:I001933) is a highly potent and selective leucine-rich repeat kinase 2 (LRRK2) inhibitor with Ki and IC50 of 2 nM and 19 nM, respectively. GNE-9605 is highly potent against LRRK2 in biochemical (Ki = 2.0 nM) and cellular (IC50 = 19 nM) assays. In the in vitro human MDR1 permeability data, GNE-9605 showed good brain penetration in higher species.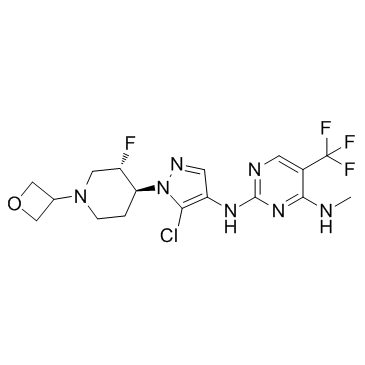 Molecular Formula: C17H20ClF4N7O
Molecular Weight:449.83
* For research use only. Not for human or veterinary use.
Synonym
| | |
| --- | --- |
| Synonyms | N2-(5-chloro-1-((3S,4S)-3-fluoro-1-(oxetan-3-yl)piperidin-4-yl)-1H-pyrazol-4-yl)-N4-methyl-5-(trifluoromethyl)pyrimidine-2,4-diamine |
Property
| | |
| --- | --- |
| Molecular Formula: | C17H20ClF4N7O |
| Molecular Weight | 449.83 |
| Target: | LRRK2 |
| Solubility | DMSO: ≥ 60 mg/mL |
| Purity | ≥95% |
| Storage | Store at -20°C |
Computed Descriptor
| | |
| --- | --- |
| IUPAC Name | 2-N-[5-chloro-1-[(3S,4S)-3-fluoro-1-(oxetan-3-yl)piperidin-4-yl]pyrazol-4-yl]-4-N-methyl-5-(trifluoromethyl)pyrimidine-2,4-diamine |
| InChI | InChI=1S/C17H20ClF4N7O/c1-23-15-10(17(20,21)22)4-24-16(27-15)26-12-5-25-29(14(12)18)13-2-3-28(6-11(13)19)9-7-30-8-9/h4-5,9,11,13H,2-3,6-8H2,1H3,(H2,23,24,26,27)/t11-,13-/m0/s1 |
| InChIKey | PUXPEQJKNAWNQA-AAEUAGOBSA-N |
| SMILES | CNC1=NC(=NC=C1C(F)(F)F)NC2=C(N(N=C2)C3CCN(CC3F)C4COC4)Cl |