Glycopyrrolate- CAS 596-51-0
Glycopyrrolate is a medication of the muscarinic anticholinergic group. It does not cross the blood–brain barrier and consequently has no to few central effects. Glycopyrrolate is a synthetic anticholinergic agent with a quaternary ammonium structure. A muscarinic competitive antagonist used as an antispasmodic, in some disorders of the gastrointestinal tract, and to reduce salivation with some anesthetics. A synthetic quaternary amine, it is available in oral and intravenous forms. It was developed by Sosei and licensed to Novartis in 2005.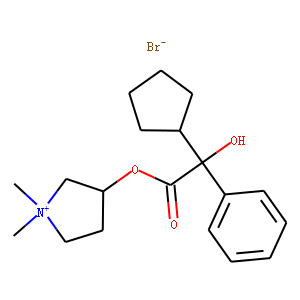 Catalog Number: A000023
CAS Number: 596-51-0
PubChem Substance ID:355039121
Molecular Formula: C19H28BrNO3
Molecular Weight:398.3
Purity: ≥95%
* For research use only. Not for human or veterinary use.
Synonym
| | |
| --- | --- |
| Synonyms | Glycopyrrolate bromide, Glycopyrronium bromide, Robinul, Gastrodyn |
Property
| | |
| --- | --- |
| Molecular Formula: | C19H28BrNO3 |
| Molecular Weight | 398.3 |
| Target: | AChR |
| Solubility | Soluble in DMSO |
| Purity | ≥95% |
| Storage | Store at -20°C |
Computed Descriptor
| | |
| --- | --- |
| InChI | 1S/C19H28NO3.BrH/c1-20(2)13-12-17(14-20)23-18(21)19(22,16-10-6-7-11-16)15-8-4-3-5-9-15;/h3-5,8-9,16-17,22H,6-7,10-14H2,1-2H3;1H/q+1;/p-1 |
| InChIKey | VPNYRYCIDCJBOM-UHFFFAOYSA-M |
| SMILES | O=C(OC1CC[N+](C)(C)C1)C(O)(C2=CC=CC=C2)C3CCCC3.[Br-] |