Glecaprevir - CAS 1365970-03-1
Glecaprevir(CAT: I006612) is a prescription medication used for the treatment of chronic hepatitis C virus (HCV) infection. It is a direct-acting antiviral agent that works by inhibiting the NS3/4A protease, an enzyme that is essential for the replication of HCV. Glecaprevir is typically used in combination with another direct-acting antiviral agent, pibrentasvir, as a fixed-dose combination medication.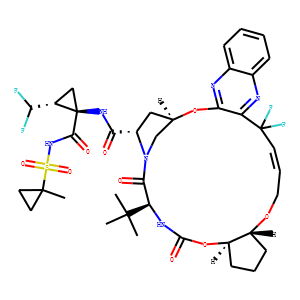 Molecular Formula: C38H46F4N6O9S
Molecular Weight:838.87
* For research use only. Not for human or veterinary use.
Synonym
| | |
| --- | --- |
| Synonyms | ABT-493; A-1282576; ABT493; A1282576; ABT 493; A 1282576;(33R,35S,91R,92R,5S,E)-5-(tert-butyl)-N-((1R,2R)-2-(difluoromethyl)-1-(((1-methylcyclopropyl)sulfonyl)carbamoyl)cyclopropyl)-14,14-difluoro-4,7-dioxo-2,8,10-trioxa-6-aza-1(2,3)-quinoxalina-3(3, |
Property
| | |
| --- | --- |
| Molecular Formula: | C38H46F4N6O9S |
| Molecular Weight | 838.87 |
| Target: | NS 3/4A inhibitor |
| Solubility | Soluble in DMSO |
| Purity | ≥95% |
| Storage | 0 - 4°C for short term or -20 °C for long term |
Computed Descriptor
| | |
| --- | --- |
| InChI | InChI=1S/C38H46F4N6O9S/c1-35(2,3)28-32(50)48-19-20(17-24(48)30(49)46-37(18-21(37)29(39)40)33(51)47-58(53,54)36(4)14-15-36)56-31-27(43-22-9-5-6-10-23(22)44-31)38(41,42)13-8-16-55-25-11-7-12-26(25)57-34(52)45-28/h5-6,8-10,13,20-21,24-26,28-29H,7,11-12,14-19 |
| InChIKey | MLSQGNCUYAMAHD-ITNVBOSISA-N |
| SMILES | O=C([C@H]1N(C2)C([C@H](C(C)(C)C)NC(O[C@@](CCC3)([H])[C@]3([H])OC/C=C/C(F)(F)C4=NC5=CC=CC=C5N=C4O[C@]2([H])C1)=O)=O)N[C@@]6(C(NS(=O)(C7(C)CC7)=O)=O)[C@H](C(F)F)C6 |