Germacrene D - CAS 23986-74-5
Germacrene D (Cat.No:R029316) is a natural sesquiterpene hydrocarbon commonly found in essential oils of various plants. It contributes to the characteristic aroma and flavor of many botanical products. Germacrene D has been studied for its potential biological activities, including antimicrobial, anti-inflammatory, and antioxidant properties.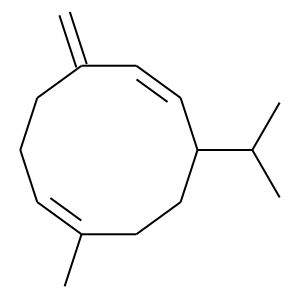 Molecular Formula: C15H24
Molecular Weight:204.357
* For research use only. Not for human or veterinary use.
Synonym
| | |
| --- | --- |
| Synonyms | [S-(E,E)]-1-Methyl-5-methylene-8-(1-methylethyl)-1,6-cyclodecadiene;?(-)-Germacra-1(10),4(15),5-triene; (-)-Germacrene D; Germacrene D;?[s-(E,E)]-1-Methyl-5-methylene-8-(1-methylethyl)-1,6-cyclodecyldidiene; |
Property
| | |
| --- | --- |
| Molecular Formula: | C15H24 |
| Molecular Weight | 204.357 |
| Purity | ≥95% |
| Storage | -20°C |
Computed Descriptor
| | |
| --- | --- |
| IUPAC Name | (1E,6E,8S)-1-methyl-5-methylidene-8-propan-2-ylcyclodeca-1,6-diene |
| InChI | InChI=1S/C15H24/c1-12(2)15-10-8-13(3)6-5-7-14(4)9-11-15/h7-8,10,12,15H,3,5-6,9,11H2,1-2,4H3/b10-8+,14-7+/t15-/m0/s1 |
| InChIKey | GAIBLDCXCZKKJE-RXJOXMPGSA-N |
| SMILES | CC1=CCCC(=C)C=CC(CC1)C(C)C |