GDC-0623 - CAS 1168091-68-6
GDC-0623(Cat No.:I000603), also known as G-868, is a highly potent inhibitor of MEK1, a key kinase in the mitogen-activated protein kinase (MAPK) signaling pathway. It acts as an ATP-noncompetitive inhibitor, meaning it does not directly compete with ATP for binding to MEK1. GDC-0623 exhibits exceptional affinity for MEK1, with a Ki value of 0.13 nM. By selectively targeting and inhibiting MEK1, GDC-0623 has the potential to disrupt aberrant MAPK signaling in cancer cells, making it a promising candidate for the development of targeted cancer therapies.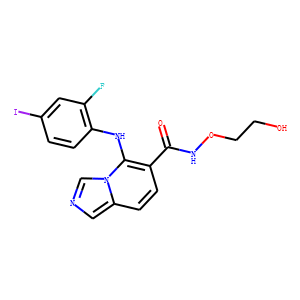 Molecular Formula: C₁₆H₁₄FIN₄O₃
Molecular Weight:456.21
* For research use only. Not for human or veterinary use.
Synonym
| | |
| --- | --- |
| Synonyms | 5-(2-fluoro-4-iodoanilino)-N-(2-hydroxyethoxy)imidazo[1,5-a]pyridine-6-carboxamide |
Property
| | |
| --- | --- |
| Molecular Formula: | C₁₆H₁₄FIN₄O₃ |
| Molecular Weight | 456.21 |
| Target: | MEK1/2 |
| Solubility | DMSO: ≥ 30 mg/mL |
| Purity | ≥95% |
| Storage | Store at -20°C |
| IC50 | 0.13 nM (Ki, +ATP); 7 nM (EC50, A375 BRAF(V600E) ) |
Computed Descriptor
| | |
| --- | --- |
| IUPAC Name | 5-(2-fluoro-4-iodoanilino)-N-(2-hydroxyethoxy)imidazo[1,5-a]pyridine-6-carboxamide |
| InChI | InChI=1S/C16H14FIN4O3/c17-13-7-10(18)1-4-14(13)20-15-12(16(24)21-25-6-5-23)3-2-11-8-19-9-22(11)15/h1-4,7-9,20,23H,5-6H2,(H,21,24) |
| InChIKey | RFWVETIZUQEJEF-UHFFFAOYSA-N |
| SMILES | C1=CC(=C(C=C1I)F)NC2=C(C=CC3=CN=CN32)C(=O)NOCCO |