Fipronil - CAS 120068-37-3
Fipronil(Cat No.:H000073), is a synthetic insecticide and acaricide used to control a wide range of pests in agriculture, horticulture, and public health applications. It works by disrupting the central nervous system of insects and mites, leading to paralysis and death. Fipronil is utilized in various formulations, including sprays, granules, and baits, making it effective against termites, ants, cockroaches, and crop-damaging insects.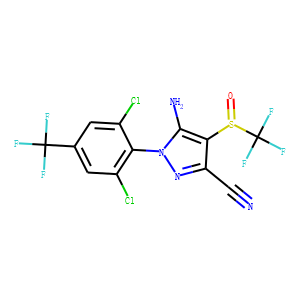 Molecular Formula: C12H4Cl2F6N4OS
Molecular Weight:437.15
* For research use only. Not for human or veterinary use.
Synonym
| | |
| --- | --- |
| Synonyms | 5-Amino-1-[2,6-dichloro-4-(trifluoromethyl)phenyl]-4-[(trifluoromethyl)sulfinyl]-1H-pyrazole-3-carbonitrile; (+/-)-Fipronil; 1-(2,6-Dichloro-4-trifluoromethylphenyl)-3-cyano-5-amino-4-(trifluoromethylsulfinyl)pyrazole; Fluocyanobenpyrazole; |
Property
| | |
| --- | --- |
| Molecular Formula: | C12H4Cl2F6N4OS |
| Molecular Weight | 437.15 |
| Purity | ≥95% |
| Storage | 2-8°C |
Computed Descriptor
| | |
| --- | --- |
| IUPAC Name | 5-amino-1-[2,6-dichloro-4-(trifluoromethyl)phenyl]-4-(trifluoromethylsulfinyl)pyrazole-3-carbonitrile |
| InChI | InChI=1S/C12H4Cl2F6N4OS/c13-5-1-4(11(15,16)17)2-6(14)8(5)24-10(22)9(7(3-21)23-24)26(25)12(18,19)20/h1-2H,22H2 |
| InChIKey | ZOCSXAVNDGMNBV-UHFFFAOYSA-N |
| SMILES | C1=C(C=C(C(=C1Cl)N2C(=C(C(=N2)C#N)S(=O)C(F)(F)F)N)Cl)C(F)(F)F |