Fipronil- CAS 120068-37-3
Fipronil(CAS 120068-37-3) is a phenylpyrazole derivative used as a broad-spectrum insecticide. It is used in agriculture, in topical veterinary treatments, and home insect control.

Fipronil inhibits the chloride channels of insect GABAA receptors in the nervous system, causing excess neuron stimulation leading to death. Fipronil can also inhibit the GABAA receptor subunits in mammals, but with a much lower binidng affinity.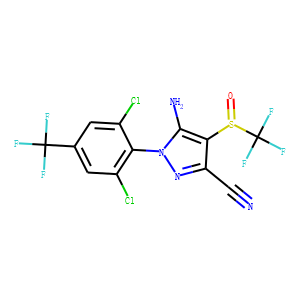 Catalog Number: H000073
CAS Number: 120068-37-3
PubChem Substance ID:355168418
Molecular Formula: C12H4Cl2F6N4OS
Molecular Weight:437.141
Purity: ≥95%
* For research use only. Not for human or veterinary use.
Synonym
| | |
| --- | --- |
| Synonyms | 5-Amino-1-[2,6-dichloro-4-(trifluoromethyl)phenyl]-4-[(trifluoromethyl)sulfinyl]-1H-pyrazole-3-carbonitrile; (+/-)-Fipronil; 1-(2,6-Dichloro-4-trifluoromethylphenyl)-3-cyano-5-amino-4-(trifluoromethylsulfinyl)pyrazole; Fluocyanobenpyrazole; |
Property
| | |
| --- | --- |
| Molecular Formula: | C12H4Cl2F6N4OS |
| Molecular Weight | 437.141 |
| Purity | ≥95% |
| Storage | Store at -20°C |
Computed Descriptor
| | |
| --- | --- |
| IUPAC Name | 5-amino-1-[2,6-dichloro-4-(trifluoromethyl)phenyl]-4-(trifluoromethylsulfinyl)pyrazole-3-carbonitrile |
| InChI | InChI=1S/C12H4Cl2F6N4OS/c13-5-1-4(11(15,16)17)2-6(14)8(5)24-10(22)9(7(3-21)23-24)26(25)12(18,19)20/h1-2H,22H2 |
| InChIKey | ZOCSXAVNDGMNBV-UHFFFAOYSA-N |
| SMILES | C1=C(C=C(C(=C1Cl)N2C(=C(C(=N2)C#N)S(=O)C(F)(F)F)N)Cl)C(F)(F)F |