Nandrolone undecylate - CAS 862-89-5
Nandrolone undecylate(CAT: R065161), trade name Dynabolon, is the undecylate esterification product of the 19-nortestosterone 17β hydroxyl group. Marketed in Europe in the 20th century as an androgen and assimilation steroid (AAS) drug. This product is used in organic synthesis, pharmaceutical research and development, and other scientific research fields.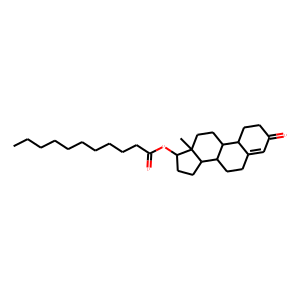 Molecular Formula: C29H46O3
Molecular Weight:442.684
* For research use only. Not for human or veterinary use.
Property
| | |
| --- | --- |
| Molecular Formula: | C29H46O3 |
| Molecular Weight | 442.684 |
| Purity | ≥95% |
| Storage | -20°C |
Computed Descriptor
| | |
| --- | --- |
| IUPAC Name | [(8R,9S,10R,13S,14S,17S)-13-methyl-3-oxo-2,6,7,8,9,10,11,12,14,15,16,17-dodecahydro-1H-cyclopenta[a]phenanthren-17-yl] undecanoate |
| InChI | InChI=1S/C29H46O3/c1-3-4-5-6-7-8-9-10-11-28(31)32-27-17-16-26-25-14-12-21-20-22(30)13-15-23(21)24(25)18-19-29(26,27)2/h20,23-27H,3-19H2,1-2H3/t23-,24+,25+,26-,27-,29-/m0/s1 |
| InChIKey | GRAAWEGTURLYKP-MVTMSODMSA-N |
| SMILES | CCCCCCCCCCC(=O)OC1CCC2C1(CCC3C2CCC4=CC(=O)CCC34)C |