Enoxacin hydrate - CAS 84294-96-2
Enoxacin(Cat No.:I005044) is a broad-spectrum antibacterial agent belonging to the class of 6-fluoronaphthyridinone antibiotics. It exhibits activity against a wide range of bacteria, including both Gram-positive and Gram-negative organisms. Enoxacin works by inhibiting the DNA gyrase enzyme, which is essential for bacterial DNA replication and repair. This mechanism of action contributes to its effectiveness in treating various bacterial infections. Enoxacin has been used clinically for the treatment of urinary tract infections, respiratory tract infections, and sexually transmitted diseases.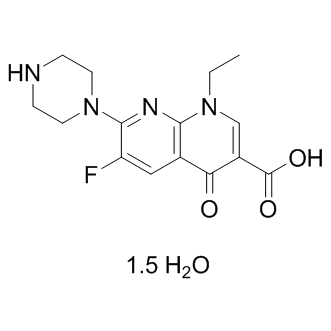 Molecular Formula: C15H17FN4O3 ● 1.5H2O
Molecular Weight:320.32
* For research use only. Not for human or veterinary use.
Property
| | |
| --- | --- |
| Molecular Formula: | C15H17FN4O3 ● 1.5H2O |
| Molecular Weight | 320.32 |
| Target: | antibacterial |
| Solubility | DMSO:45mg/ml |
| Purity | ≥95% |
| Storage | Keep in dark place,Inert atmosphere,Room temperature |