Enoxacin hydrate- CAS 84294-96-2
Enoxacin is a broad-spectrum 6-fluoronaphthyridinone antibacterial agent.
Target: antibacterial
Enoxacin is a new quinolone carboxylic acid compound. Its activity against 740 bacterial isolates was determined. It inhibited 90% Escherichia coli, Klebsiella sp., Aeromonas sp., Enterobacter spp., Serratia spp., Proteus mirabilis, and Morganella morganii at less than or equal to 0.8 micrograms/ml [1]. Daily plasma theophylline concentrations were measured in 14 patients. The mean +/- s.d. theophylline concentrations increased from 8.5 +/- 2.8 micrograms ml-1 prior to enoxacin to a maximum of 21.7 +/- 7.8 micrograms ml-1 during coadministration [2].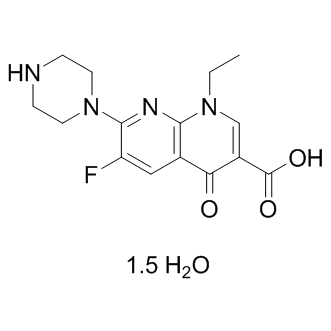 Catalog Number: I005044
CAS Number: 84294-96-2
PubChem Substance ID:355038792
Molecular Formula: C15H17FN4O3 ● 1.5H2O
Molecular Weight:320.32
Purity: ≥95%
* For research use only. Not for human or veterinary use.
Property
| | |
| --- | --- |
| Molecular Formula: | C15H17FN4O3 ● 1.5H2O |
| Molecular Weight | 320.32 |
| Target: | antibacterial |
| Solubility | DMSO:45mg/ml |
| Purity | ≥95% |
| Storage | Store at -20°C |