Eliprodil - CAS 119431-25-3
Eliprodil (CAT: I000706) is a non-competitive antagonist of the NR2B subunit of the N-methyl-D-aspartate (NMDA) receptor. It exhibits an inhibitory effect on NR2B-containing receptors with an IC50 value of approximately 1 μM. Eliprodil is less potent in inhibiting NR2A- and NR2C-containing receptors. The NMDA receptor is involved in various physiological and pathological processes in the central nervous system, and the selective blockade of specific receptor subunits like NR2B has been investigated as a potential therapeutic strategy for conditions such as neurodegenerative diseases and pain management.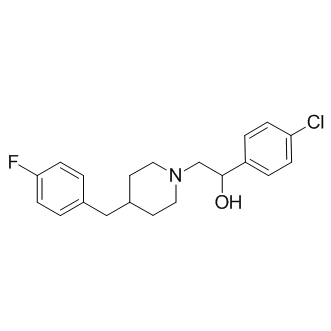 Molecular Formula: C20H23ClFNO
Molecular Weight:347.9
* For research use only. Not for human or veterinary use.
Synonym
| | |
| --- | --- |
| Synonyms | (R)-1-(4-chlorophenyl)-2-(4-(4-fluorobenzyl)piperidin-1-yl)ethanol |
Property
| | |
| --- | --- |
| Molecular Formula: | C20H23ClFNO |
| Molecular Weight | 347.9 |
| Target: | NMDA Receptor |
| Solubility | 10 mM in DMSO |
| Purity | ≥95% |
| Storage | Desiccate at +4C |
Computed Descriptor
| | |
| --- | --- |
| InChIKey | GGUSQTSTQSHJAH-UHFFFAOYSA-N |