Diphenhydramine HCl - CAS 147-24-0
Diphenhydramine HCl(CAT: A000233) is a first-generation histamine H1 receptor antagonist, used in various allergic conditions such as rhinitis, urticaria, and conjunctivitis. This product is used for medical research and development and other scientific research purposes.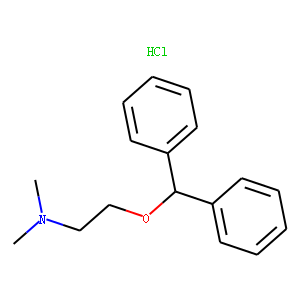 Molecular Formula: C17H22ClNO
Molecular Weight:291.819
* For research use only. Not for human or veterinary use.
Synonym
Property
| | |
| --- | --- |
| Molecular Formula: | C17H22ClNO |
| Molecular Weight | 291.819 |
| Target: | Histamine H1 receptor |
| Purity | ≥95% |
| Storage | 3 years -20C powder |
Computed Descriptor
| | |
| --- | --- |
| IUPAC Name | 2-benzhydryloxy-N,N-dimethylethanamine;hydrochloride |
| InChI | InChI=1S/C17H21NO.ClH/c1-18(2)13-14-19-17(15-9-5-3-6-10-15)16-11-7-4-8-12-16;/h3-12,17H,13-14H2,1-2H3;1H |
| InChIKey | PCHPORCSPXIHLZ-UHFFFAOYSA-N |
| SMILES | CN(C)CCOC(C1=CC=CC=C1)C2=CC=CC=C2.Cl |