Decarbamoylgonyautoxin-2 - CAS 86996-87-4

Decarbamoylgonyautoxin-2 (CAS 86996-87-4) is a paralytic shellfish toxins. Gonyautoxins (GTX) are a few similar toxic molecules that are naturally produced by algae. They are part of the group of saxitoxins, a large group of neurotoxins along with a molecule that is also referred to as saxitoxin (STX), neosaxitoxin (NSTX) and decarbamoylsaxitoxin (dcSTX).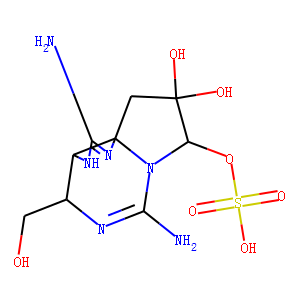 Molecular Formula: C9H16N6O7S
Molecular Weight:352.322
* For research use only. Not for human or veterinary use.
Synonym
| | |
| --- | --- |
| Synonyms | Decarbamoylgonyautoxin 2; DcGonyautoxin 2 |
Property
| | |
| --- | --- |
| Molecular Formula: | C9H16N6O7S |
| Molecular Weight | 352.322 |
| Purity | ≥95% |
| Storage | -20°C |
Computed Descriptor
| | |
| --- | --- |
| IUPAC Name | [(3aS,4R,8S,10aR)-2,6-diamino-9,9-dihydroxy-4-(hydroxymethyl)-3a,4,8,10-tetrahydro-3H-pyrrolo[1,2-c]purin-8-yl] hydrogen sulfate |
| InChI | InChI=1S/C9H16N6O7S/c10-6-13-4-3(1-16)12-7(11)15-5(22-23(19,20)21)9(17,18)2-8(4,15)14-6/h3-5,16-18H,1-2H2,(H2,11,12)(H3,10,13,14)(H,19,20,21)/t3-,4-,5-,8+/m0/s1 |
| InChIKey | GBRZXCTZYCGMIE-KALNXVOASA-N |
| SMILES | C1C23C(C(N=C(N2C(C1(O)O)OS(=O)(=O)O)N)CO)NC(=N3)N |