Dasabuvir - CAS 1132935-63-7
Dasabuvir (CAT: I000498) is an antiviral medication used in combination therapy for the treatment of chronic hepatitis C virus (HCV) infection. It belongs to the class of drugs known as NS5B polymerase inhibitors. Dasabuvir specifically targets the HCV nonstructural protein 5B (NS5B) polymerase, which is essential for viral replication. By inhibiting NS5B polymerase, dasabuvir disrupts the replication process of HCV, ultimately reducing the viral load in the body. It is typically used in combination with other antiviral agents as part of a comprehensive treatment regimen for chronic HCV infection.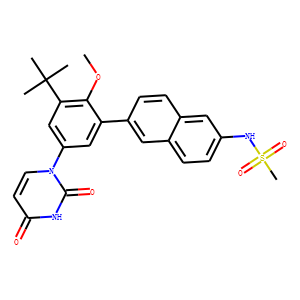 Molecular Formula: C26H27N3O5S
Molecular Weight:493.5
* For research use only. Not for human or veterinary use.
Synonym
| | |
| --- | --- |
| Synonyms | ABT333; ABT-333; ABT 333 |
Property
| | |
| --- | --- |
| Molecular Formula: | C26H27N3O5S |
| Molecular Weight | 493.5 |
| Target: | HCV |
| Solubility | DMSO: ≥ 46 mg/mL |
| Purity | ≥95% |
| Storage | Store at -20°C |
Computed Descriptor
| | |
| --- | --- |
| InChI | InChI=1S/C26H27N3O5S/c1-26(2,3)22-15-20(29-11-10-23(30)27-25(29)31)14-21(24(22)34-4)18-7-6-17-13-19(28-35(5,32)33)9-8-16(17)12-18/h6-15,28H,1-5H3,(H,27,30,31) |
| InChIKey | NBRBXGKOEOGLOI-UHFFFAOYSA-N |
| SMILES | CC(C)(C)C1=C(OC)C(C2=CC3=CC=C(NS(C)(=O)=O)C=C3C=C2)=CC(N4C=CC(NC4=O)=O)=C1 |