Cloprostenol sodium - CAS 55028-72-3
Cloprostenol sodium salt (Cat. No: A001233) is a synthetic and effective prostaglandin analogue, mainly as an agonist of PGF2α receptor. Its pharmacological action is to dissolve the corpus luteum, reduce the concentration of progesterone in the blood.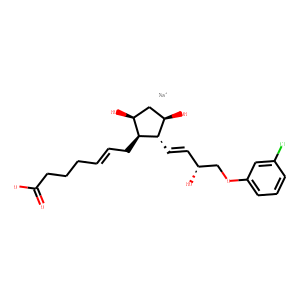 Molecular Formula: C22H28ClNaO6
Molecular Weight:446.9
* For research use only. Not for human or veterinary use.
Synonym
| | |
| --- | --- |
| Synonyms | (5Z)-rel-7-[(1R,2R,3R,5S)-2-[(1E,3R)-4-(3-chlorophenoxy)-3-hydroxy-1-buten-1-yl]-3,5-dihydroxycyclopentyl]-5-heptenoic Acid Sodium; (5Z)-rel-7-[(1R,2R,3R,5S)-2-[(1E,3R)-4-(3-chlorophenoxy)-3-hydroxy-1-butenyl]-3,5-dihydroxycyclopentyl]-5-heptenoic Ac |
Property
| | |
| --- | --- |
| Molecular Formula: | C22H28ClNaO6 |
| Molecular Weight | 446.9 |
| Target: | Prostanoid Receptors |
| Solubility | Soluble to 20 mM in sterile water |
| Purity | ≥95% |
| Storage | Desiccate at -20°C |
| Related CAS. | 40665-92-7(free acid) |
Computed Descriptor
| | |
| --- | --- |
| IUPAC Name | sodium;(Z)-7-[(1R,2R,3R,5S)-2-[(E,3R)-4-(3-chlorophenoxy)-3-hydroxybut-1-enyl]-3,5-dihydroxycyclopentyl]hept-5-enoate |
| InChI | InChI=1S/C22H29ClO6.Na/c23-15-6-5-7-17(12-15)29-14-16(24)10-11-19-18(20(25)13-21(19)26)8-3-1-2-4-9-22(27)28;/h1,3,5-7,10-12,16,18-21,24-26H,2,4,8-9,13-14H2,(H,27,28);/q;+1/p-1/b3-1-,11-10+;/t16-,18-,19-,20+,21-;/m1./s1 |
| InChIKey | IFEJLMHZNQJGQU-KXXGZHCCSA-M |
| SMILES | O[C@@H]1[C@H](C/C=CCCCC([O-])=O)[C@@H](/C=C/[C@@H](O)COC2=CC=CC(Cl)=C2)[C@H](O)C1.[Na+] |