Ciclesonide- CAS 126544-47-6
Ciclesonide (CAS 126544-47-6) is an inhaled corticosteroids, used to ameliorate symptoms of airway inflammatory diseases, such as asthma, allergic rhinitis, and chronic obstructive pulmonary disease. Ciclesonide is a corticosteroid prodrug that is converted to its active form, desisobutyryl-CIC. Des-CIC is a glucocorticoid receptor agonist.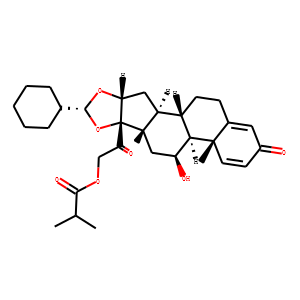 Catalog Number: A000036
CAS Number: 126544-47-6
PubChem Substance ID:355038491
Molecular Formula: C32H44O7
Molecular Weight:540.7
Purity: ≥95%
* For research use only. Not for human or veterinary use.
Synonym
| | |
| --- | --- |
| Synonyms | Ciclesonide, Alvesco, Omnaris, RPR251526, Zetonna |
Property
| | |
| --- | --- |
| Molecular Formula: | C32H44O7 |
| Molecular Weight | 540.7 |
| Target: | Glucocorticoid Receptor |
| Solubility | >15.8mg/mL in DMSO |
| Purity | ≥95% |
| Storage | Store at -20°C |
| Overview of Clinical Research | <span style="color:#000000;"><span style="font-size:12px;"><span style="font-family:arial,helvetica,sans-serif;">Ciclesonide is a&nbsp;Glucocorticoid receptor agonist.&nbsp;The US FDA approved IND application for ciclesonide in COVID-2019 infections in 2020.</span></span></span> |
Computed Descriptor
| | |
| --- | --- |
| IUPAC Name | [2-[(1S,2S,4R,6R,8S,9S,11S,12S,13R)-6-cyclohexyl-11-hydroxy-9,13-dimethyl-16-oxo-5,7-dioxapentacyclo[10.8.0.02,9.04,8.013,18]icosa-14,17-dien-8-yl]-2-oxoethyl] 2-methylpropanoate |
| InChI | InChI=1S/C32H44O7/c1-18(2)28(36)37-17-25(35)32-26(38-29(39-32)19-8-6-5-7-9-19)15-23-22-11-10-20-14-21(33)12-13-30(20,3)27(22)24(34)16-31(23,32)4/h12-14,18-19,22-24,26-27,29,34H,5-11,15-17H2,1-4H3/t22-,23-,24?,26-,27-,29?,30-,31-,32+/m0/s1 |
| InChIKey | LUKZNWIVRBCLON-ROPSEAAASA-N |
| SMILES | O=C1C=C[[email protected]@]2(C)C(CC[[email protected]]3([H])[[email protected]]2([H])[[email protected]@H](O)C[[email protected]@]4(C)[[email protected]@]3([H])C[[email protected]]5([H])[[email protected]@]4(C(COC(C(C)C)=O)=O)O[[email protected]](C6CCCCC6)O5)=C1 |