CEP-37440 - CAS 1391712-60-9
CEP-37440(CAT: I001499) is a dual kinase inhibitor that targets both the receptor tyrosine kinase anaplastic lymphoma kinase (ALK) and the focal adhesion kinase (FAK). It has shown potential as an antineoplastic agent, disrupting ALK- and FAK-mediated signal transduction pathways and inhibiting tumor cell growth. Dysregulation and gene rearrangements of ALK are associated with various tumors, making it an attractive target for cancer therapy. CEP-37440's ability to target both ALK and FAK makes it a promising candidate for treating tumors that rely on both pathways for growth and survival.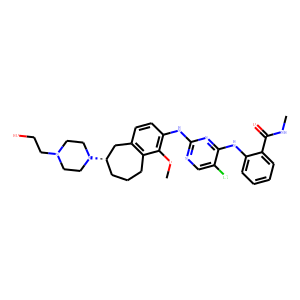 Molecular Formula: C30H38ClN7O3
Molecular Weight:580.1
* For research use only. Not for human or veterinary use.
Synonym
| | |
| --- | --- |
| Synonyms | 2-[[5-chloro-2-[[(6S)-6,7,8,9-tetrahydro-6-[4-(2-hydroxyethyl)-1-piperazinyl]-1-methoxy-5H-benzocyclohepten-2-yl]amino]-4-pyrimidinyl]amino]-N-methyl-benzamide |
Property
| | |
| --- | --- |
| Molecular Formula: | C30H38ClN7O3 |
| Molecular Weight | 580.1 |
| Target: | Dual FAK/ALK |
| Solubility | DMSO: ≥ 41 mg/mL |
| Purity | ≥95% |
| Storage | -20°C |
| IC50 | 2.3 nM (FAK); 120 nM (ALK cellular IC50 in 75% human plasma) |
Computed Descriptor
| | |
| --- | --- |
| InChI | InChI=1S/C30H38ClN7O3/c1-32-29(40)23-7-3-4-9-25(23)34-28-24(31)19-33-30(36-28)35-26-11-10-20-18-21(6-5-8-22(20)27(26)41-2)38-14-12-37(13-15-38)16-17-39/h3-4,7,9-11,19,21,39H,5-6,8,12-18H2,1-2H3,(H,32,40)(H2,33,34,35,36)/t21-/m0/s1 |
| InChIKey | BCSHRERPHLTPEE-NRFANRHFSA-N |
| SMILES | O=C(NC)C1=CC=CC=C1NC2=NC(NC3=C(OC)C(CCC[C@H](N4CCN(CCO)CC4)C5)=C5C=C3)=NC=C2Cl |