Celecoxib - CAS 169590-42-5
Celecoxib was developed by G. D. Searle & Company and co-promoted by Monsanto Company (parent company of Searle) and Pfizer under the brand name Celebrex. Monsanto merged with Pharmacia, from which the Medical Research Division was acquired by Pfizer, giving Pfizer ownership of Celebrex. The drug was at the core of a major patent dispute that was resolved in Searle/'s favor (later Pfizer) in 2004. In University of Rochester v. G.D. Searle & Co., 358 F.3d 916 (Fed. Cir. 2004), the University of Rochester claimed that United States Pat. No. 6,048,850 (which claimed a method of inhibiting COX-2 in humans using a compound, without actually disclosing what that compound might be) covered drugs such as celecoxib. The court ruled in favor of Searle, holding in essence that the University had claimed a method requiring, yet provided no written description of, a compound that could inhibit COX-2 and therefore the patent was invalid.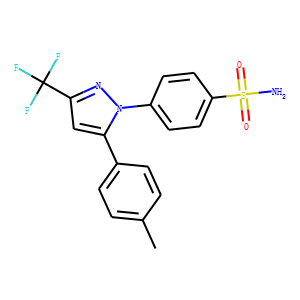 Molecular Formula: C₁₇H₁₄F₃N₃O₂S
Molecular Weight:381.37
* For research use only. Not for human or veterinary use.
Synonym
Property
| | |
| --- | --- |
| Molecular Formula: | C₁₇H₁₄F₃N₃O₂S |
| Molecular Weight | 381.37 |
| Target: | COX |
| Solubility | >19.1mg/mL in DMSO |
| Purity | ≥95% |
| Storage | 3 years -20C powder |
| MDL | MFCD00941298 |
Computed Descriptor
| | |
| --- | --- |
| InChI | InChI=1S/C17H14F3N3O2S/c1-11-2-4-12(5-3-11)15-10-16(17(18,19)20)22-23(15)13-6-8-14(9-7-13)26(21,24)25/h2-10H,1H3,(H2,21,24,25) |
| InChIKey | RZEKVGVHFLEQIL-UHFFFAOYSA-N |
| SMILES | CC1=CC=C(C=C1)C2=CC(=NN2C3=CC=C(C=C3)S(=O)(=O)N)C(F)(F)F |