Deferoxamine mesylate- CAS 138-14-7
Deferoxamine mesylate as a chelating agent used to remove excess iron from the body, treat acute iron poisoning, especially in small children, used to treat hemochromatosis, that can be either genetic or acquired.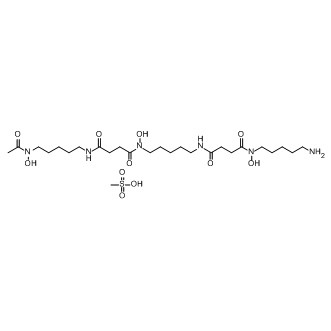 Catalog Number: I001474
CAS Number: 138-14-7
PubChem Substance ID:355037789
Molecular Formula: C25H48N6O8 • CH3SO3H
Molecular Weight:656.8
Purity: ≥95%
* For research use only. Not for human or veterinary use.
Synonym
| | |
| --- | --- |
| Synonyms | Ba 33112;DFOM;DFX;NSC 644468 |
Property
| | |
| --- | --- |
| Molecular Formula: | C25H48N6O8 • CH3SO3H |
| Molecular Weight | 656.8 |
| Solubility | H2O: ≥ 33 mg/mL |
| Purity | ≥95% |
| Storage | -20°C |
Computed Descriptor
| | |
| --- | --- |
| InChIKey | IDDIJAWJANBQLJ-UHFFFAOYSA-N |