CDDO Methyl Ester- CAS 218600-53-4

CDDO Methyl Ester(cas 218600-53-4) is the lead molecule in Reata/'s portfolio of Antioxidant Inflammation Modulators (AIMs). The AIMs are potent inducers of the transcription factor Nrf2.


The C-28 methyl ester of CDDO (CDDO methyl ester) blocks the cellular synthesis of inducible nitric oxide synthase (iNOS) and inducible COX-2 in INF-γ-activated mouse macrophages with an IC50 value of 0.11 nM. It induces apoptosis, induces differentiation, and inhibits the inflammatory response in various tumor cells through inhibition of IκBα kinase/NF-κB signaling. CDDO methyl ester has potent antidiabetic activity, reducing proinflammatory cytokine expression in high fat diet-fed type 2 diabetic mice and in Leprdb/db mice and triggering AMP-activated protein kinase and LKB1 activation in muscle and liver.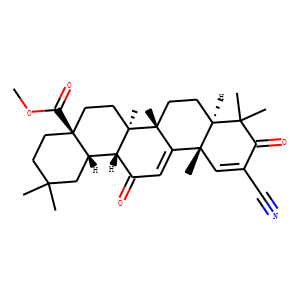 Molecular Formula: C32H43NO4
Molecular Weight:505.7
* For research use only. Not for human or veterinary use.
Synonym
| | |
| --- | --- |
| Synonyms | methyl (4aS,6aR,6bS,8aR,12aS,14aR,14bS)-11-cyano-2,2,6a,6b,9,9,12a-heptamethyl-10,14-dioxo-1,3,4,5,6,7,8,8a,14a,14b-decahydropicene-4a-carboxylate |
Property
| | |
| --- | --- |
| Molecular Formula: | C32H43NO4 |
| Molecular Weight | 505.7 |
| Target: | JAK |
| Solubility | DMSO: ≥ 49 mg/mL |
| Purity | ≥95% |
| Storage | Store at -20°C |
Computed Descriptor
| | |
| --- | --- |
| InChI | InChI=1S/C32H43NO4/c1-27(2)11-13-32(26(36)37-8)14-12-31(7)24(20(32)17-27)21(34)15-23-29(5)16-19(18-33)25(35)28(3,4)22(29)9-10-30(23,31)6/h15-16,20,22,24H,9-14,17H2,1-8H3/t20-,22?,24+,29+,30-,31-,32+/m1/s1 |
| InChIKey | WPTTVJLTNAWYAO-UEXZUOMCSA-N |
| SMILES | CC1(C)CC[[email protected]]2(C(OC)=O)CC[[email protected]@]([[email protected]@]3([H])[[email protected]]2([H])C1)(C)[[email protected]]4(C)CC[[email protected]@]5([H])C(C)(C)C(C(C#N)=C[[email protected]]5(C)C4=CC3=O)=O |