Calcipotriol monohydrate - CAS 147657-22-5
Calcipotriol monohydrate(CAT: I001808), also known as calcipotriene monohydrate, is a synthetic vitamin D3 analog used to treat psoriasis. Calcipotriol works by binding to vitamin D receptors in skin cells, which helps regulate cell growth and differentiation. This results in a decrease in the production of skin cells and a reduction in inflammation, which is characteristic of psoriasis.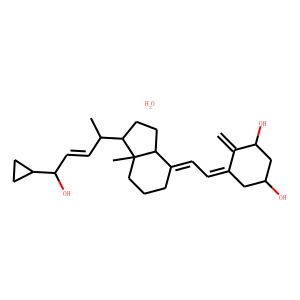 Molecular Formula: C27H42O4
Molecular Weight:430.62
* For research use only. Not for human or veterinary use.
Synonym
| | |
| --- | --- |
| Synonyms | (1R,3S,5Z)-5-[(2E)-2-[(1R,3aS,7aR)-1-[(E,2R,5S)-5-cyclopropyl-5-hydroxypent-3-en-2-yl]-7a-methyl-2,3,3a,5,6,7-hexahydro-1H-inden-4-ylidene]ethylidene]-4-methylidenecyclohexane-1,3-diol;hydrate |
Property
| | |
| --- | --- |
| Molecular Formula: | C27H42O4 |
| Molecular Weight | 430.62 |
| Target: | VD/VDR |
| Solubility | 10 mM in DMSO |
| Purity | ≥95% |
| Storage | Store at -20°C |
Computed Descriptor
| | |
| --- | --- |
| SMILES | CC(C=CC(C1CC1)O)C2CCC3C2(CCCC3=CC=C4CC(CC(C4=C)O)O)C.O |