Baloxavir marboxil - CAS 1985606-14-1
Baloxavir marboxil(CAT: I003941) is an innovative CAP-dependent endonuclease inhibitor and one of the few new drugs in the world that can inhibit the proliferation of the influenza virus. In June 2018, the US Food and Drug Administration (FDA) accepted its new drug marketing application. This product is used for medical research and development and other scientific research purposes.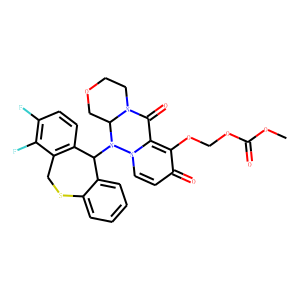 Molecular Formula: C27H23F2N3O7S
Molecular Weight:571.552
* For research use only. Not for human or veterinary use.
Synonym
| | |
| --- | --- |
| Synonyms | Baloxavir marboxil;({(12aR)-12-[(11S)-7,8-difluoro-6,11-dihydrodibenzo[b,e]thiepin-11-yl]-6,8-dioxo-3,4,6,8,12,12ahexahydro-1H-[1,4]oxazino[3,4-c]pyrido[2,1-f][1,2,4]triazin-7-yl}oxy)methyl methyl carbonate |
Property
| | |
| --- | --- |
| Molecular Formula: | C27H23F2N3O7S |
| Molecular Weight | 571.552 |
| Solubility | Soluble in DMSO |
| Purity | ≥95% |
| Storage | 0 - 4 °C for short term or -20 °C for long term |
Computed Descriptor
| | |
| --- | --- |
| InChI | InChI=1S/C27H23F2N3O7S/c1-36-27(35)39-14-38-25-19(33)8-9-31-24(25)26(34)30-10-11-37-12-21(30)32(31)23-15-6-7-18(28)22(29)17(15)13-40-20-5-3-2-4-16(20)23/h2-9,21,23H,10-14H2,1H3/t21-,23+/m1/s1 |
| InChIKey | RZVPBGBYGMDSBG-GGAORHGYSA-N |
| SMILES | COC(=O)OCOC1=C2C(=O)N3CCOCC3N(N2C=CC1=O)C4C5=C(CSC6=CC=CC=C46)C(=C(C=C5)F)F |