Bictegravir- CAS 1611493-60-7
Bictegravir(CAT: I004238) also known as GS-9883, is a potent, unboosted, once-Daily HIV-1 Integrase Strand Transfer Inhibitor (INSTI) with improved pharmacokinetics and in vitro resistance profile. Bictegravir is currently in Phase 3 trials. This product is used for medical research and development.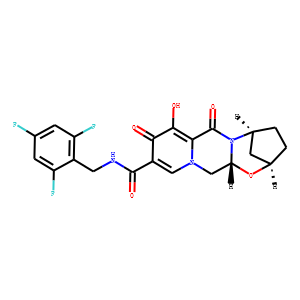 Catalog Number: I004238
CAS Number: 1611493-60-7
PubChem Substance ID:355035962
Molecular Formula: C21H18F3N3O5
Molecular Weight:449.3862
Purity: ≥95%
* For research use only. Not for human or veterinary use.
Synonym
| | |
| --- | --- |
| Synonyms | GS-9883; GS 9883; GS9883; GS-9883-01; Bictegravir;(2R,5S,13aR)-8-hydroxy-7,9-dioxo-N-(2,4,6-trifluorobenzyl)-2,3,4,5,7,9,13,13a-octahydro-2,5-methanopyrido[1/',2/':4,5]pyrazino[2,1-b][1,3]oxazepine-10-carboxamide |
Property
| | |
| --- | --- |
| Molecular Formula: | C21H18F3N3O5 |
| Molecular Weight | 449.3862 |
| Target: | HIV-1 Integrase Strand Transfer Inhibitor |
| Solubility | Soluble in DMSO |
| Purity | ≥95% |
| Storage | 0 - 4 °C for short term or -20 °C for long term |
Computed Descriptor
| | |
| --- | --- |
| IUPAC Name | (1S,11R,13R)-5-hydroxy-3,6-dioxo-N-[(2,4,6-trifluorophenyl)methyl]-12-oxa-2,9-diazatetracyclo[11.2.1.02,11.04,9]hexadeca-4,7-diene-7-carboxamide |
| InChI | InChI=1S/C21H18F3N3O5/c22-9-3-14(23)12(15(24)4-9)6-25-20(30)13-7-26-8-16-27(10-1-2-11(5-10)32-16)21(31)17(26)19(29)18(13)28/h3-4,7,10-11,16,29H,1-2,5-6,8H2,(H,25,30)/t10-,11+,16+/m0/s1 |
| InChIKey | SOLUWJRYJLAZCX-LYOVBCGYSA-N |
| SMILES | O=C(C1=CN(C2=C(O)C1=O)C[[email protected]@]3([H])O[[email protected]](C4)([H])CC[[email protected]]4([H])N3C2=O)NCC5=C(F)C=C(F)C=C5F |