Baricitinib - CAS 1187594-09-7
Baricitinib (CAT: I000674) is a selective inhibitor of Janus kinase (JAK) enzymes, specifically targeting JAK1 and JAK2. It is primarily used in the treatment of inflammatory conditions, such as rheumatoid arthritis. Baricitinib works by blocking the activity of JAK enzymes, which play a crucial role in the signaling pathways involved in inflammation and immune response. By inhibiting JAK1 and JAK2, baricitinib helps to reduce inflammation and alleviate the symptoms associated with rheumatoid arthritis.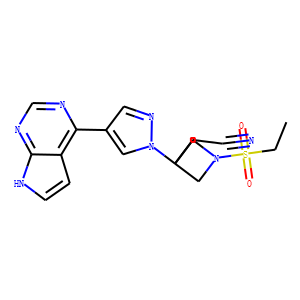 Molecular Formula: C₁₆H₁₇N₇O₂S
Molecular Weight:371.42
* For research use only. Not for human or veterinary use.
Synonym
| | |
| --- | --- |
| Synonyms | 2-[1-ethylsulfonyl-3-[4-(7H-pyrrolo[2,3-d]pyrimidin-4-yl)pyrazol-1-yl]azetidin-3-yl]acetonitrile |
Property
| | |
| --- | --- |
| Molecular Formula: | C₁₆H₁₇N₇O₂S |
| Molecular Weight | 371.42 |
| Target: | JAK |
| Solubility | DMSO: ≤ 25 mg/mL |
| Purity | ≥95% |
| Storage | 3 years -20C powder |
| IC50 | JAK1 (5.9 nM) and JAK2 (5.7 nM) [1]. |
Computed Descriptor
| | |
| --- | --- |
| InChI | InChI=1S/C16H17N7O2S/c1-2-26(24,25)22-9-16(10-22,4-5-17)23-8-12(7-21-23)14-13-3-6-18-15(13)20-11-19-14/h3,6-8,11H,2,4,9-10H2,1H3,(H,18,19,20) |
| InChIKey | XUZMWHLSFXCVMG-UHFFFAOYSA-N |
| SMILES | CCS(=O)(=O)N1CC(C1)(CC#N)N2C=C(C=N2)C3=C4C=CNC4=NC=N3 |