Auranofin - CAS 34031-32-8
Auranofin (CAT: I003232) is an antirheumatic agent primarily used in the treatment of rheumatoid arthritis. It belongs to the class of disease-modifying antirheumatic drugs (DMARDs) and exerts its therapeutic effects by reducing inflammation and modifying the immune response. Auranofin helps to alleviate symptoms associated with rheumatoid arthritis, including joint pain, tenderness, swelling, and morning stiffness.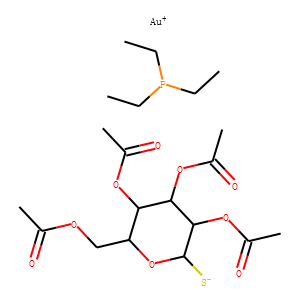 Molecular Formula: C₂₀H₃₄AuO₉PS
Molecular Weight:678.48
* For research use only. Not for human or veterinary use.
Synonym
| | |
| --- | --- |
| Synonyms | A name could not be generated for this structure. |
Property
| | |
| --- | --- |
| Molecular Formula: | C₂₀H₃₄AuO₉PS |
| Molecular Weight | 678.48 |
| Target: | Reductases |
| Solubility | 10 mM in DMSO |
| Purity | ≥95% |
| Storage | Store at RT |
| MDL | MFCD00080759 |
Computed Descriptor
| | |
| --- | --- |
| InChI | InChI=1S/C14H20O9S.C6H15P.Au/c1-6(15)19-5-10-11(20-7(2)16)12(21-8(3)17)13(14(24)23-10)22-9(4)18;1-4-7(5-2)6-3;/h10-14,24H,5H2,1-4H3;4-6H2,1-3H3;/q;;+1/p-1 |
| InChIKey | AUJRCFUBUPVWSZ-UHFFFAOYSA-M |
| SMILES | CCP(CC)CC.CC(=O)OCC1C(C(C(C(O1)[S-])OC(=O)C)OC(=O)C)OC(=O)C.[Au+] |