Atogepant - CAS 1374248-81-3
Atogepant(CAT: I003177) is a CGRP receptor antagonist that is currently being developed as a potential treatment for migraines. Migraine headaches are believed to be triggered by the release of CGRP, a neuropeptide that plays a crucial role in their pathogenesis. Atogepant works by inhibiting the activity of the CGRP receptor, thereby reducing the frequency and severity of migraine headaches. It has been shown to be effective in several clinical trials, and further studies are ongoing. While Atogepant is generally well-tolerated, common side effects may include nausea, fatigue, and constipation. It is important to note that Atogepant is intended for research purposes only and should not be used for any other purposes.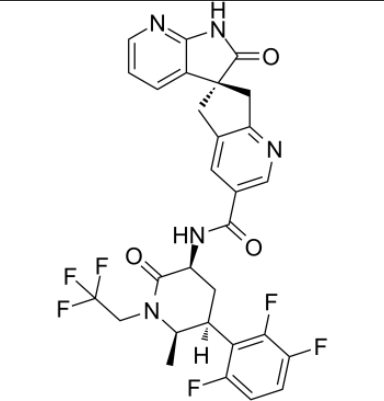 Molecular Formula: C29H23F6N5O3
Molecular Weight:603.525
* For research use only. Not for human or veterinary use.
Synonym
| | |
| --- | --- |
| Synonyms | MK-8031; MK 8031; MK8031. Atogepant.;(3/'S)-N-[(3S,5S,6R)-6-methyl-2-oxo-1-(2,2,2-trifluoroethyl)-5-(2,3,6-trifluorophenyl)piperidin-3-yl]-2/'-oxo-1/',2/',5,7-tetrahydrospiro[cyclopenta[b]pyridine-6,3/'-pyrrolo[2,3-b]pyridine]-3-carboxamide |
Property
| | |
| --- | --- |
| Molecular Formula: | C29H23F6N5O3 |
| Molecular Weight | 603.525 |
| Solubility | Soluble in DMSO |
| Purity | ≥95% |
| Storage | 0 - 4 °C for short term or -20 °C for long term |
Computed Descriptor
| | |
| --- | --- |
| IUPAC Name | (3S)-N-[(3S,5S,6R)-6-methyl-2-oxo-1-(2,2,2-trifluoroethyl)-5-(2,3,6-trifluorophenyl)piperidin-3-yl]-2-oxospiro[1H-pyrrolo[2,3-b]pyridine-3,6/'-5,7-dihydrocyclopenta[b]pyridine]-3/'-carboxamide |
| InChI | InChI=1S/C29H23F6N5O3/c1-13-16(22-18(30)4-5-19(31)23(22)32)8-20(26(42)40(13)12-29(33,34)35)38-25(41)15-7-14-9-28(10-21(14)37-11-15)17-3-2-6-36-24(17)39-27(28)43/h2-7,11,13,16,20H,8-10,12H2,1H3,(H,38,41)(H,36,39,43)/t13-,16-,20+,28+/m1/s1 |
| InChIKey | QIVUCLWGARAQIO-OLIXTKCUSA-N |
| SMILES | O=C1[C@@]2(C=3C(N1)=NC=CC3)CC=4C(C2)=NC=C(C(N[C@H]5C[C@H]([C@@H](C)N(CC(F)(F)F)C5=O)C6=C(F)C(F)=CC=C6F)=O)C4 |