Viomycin - CAS 32988-50-4
Viomycin(CAT: I010821) is a member of the tuberactinomycin family of antibiotics. It acts by inhibiting group I intron splicing, a process involved in RNA maturation, as well as prokaryotic protein synthesis. Viomycin's mechanism of action is based on its ability to bind to the ribosome and disrupt the translation process, leading to the inhibition of bacterial protein synthesis. Due to its specific mode of action, viomycin is primarily used in the treatment of tuberculosis caused by drug-resistant strains. Its inhibitory effects on intron splicing also make it a valuable tool in molecular biology research.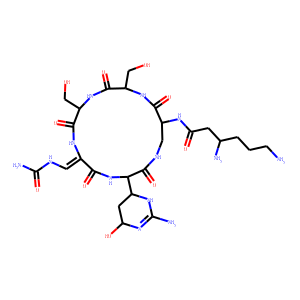 Molecular Formula: C25H43N13O10
Molecular Weight:685.7
* For research use only. Not for human or veterinary use.
Synonym
| | |
| --- | --- |
| Synonyms | (S)-3,6-Diamino-N-((3S,9S,12S,15S,Z)3((2R,4S)-6-amino-4-hydroxy-1,2,3,4-tetrahydropyridin-2-yl)-9,12-bis(hydroxymethyl)-2,5,8,11,14-pentaoxo-6-(ureidomethylene)-1,4,7,10,13-pentaazacyclohexadecan-15-yl)hexanamide disulfate |
Property
| | |
| --- | --- |
| Molecular Formula: | C25H43N13O10 |
| Molecular Weight | 685.7 |
| Target: | DNA Synthesis |
| Solubility | Soluble to 75 mM in water |
| Purity | ≥95% |
| Storage | Store at -20C |
Computed Descriptor
| | |
| --- | --- |
| IUPAC Name | (3S)-3,6-diamino-N-[(3S,6Z,9S,12S,15S)-3-[(4S,6R)-2-amino-4-hydroxy-1,4,5,6-tetrahydropyrimidin-6-yl]-6-[(carbamoylamino)methylidene]-9,12-bis(hydroxymethyl)-2,5,8,11,14-pentaoxo-1,4,7,10,13-pentazacyclohexadec-15-yl]hexanamide |
| InChI | InChI=1S/C25H43N13O10/c26-3-1-2-10(27)4-16(41)32-12-6-30-23(47)18(11-5-17(42)37-24(28)36-11)38-20(44)13(7-31-25(29)48)33-21(45)14(8-39)35-22(46)15(9-40)34-19(12)43/h7,10-12,14-15,17-18,39-40,42H,1-6,8-9,26-27H2,(H,30,47)(H,32,41)(H,33,45)(H,34,43)(H,35,46)(H,38,44)(H3,28,36,37)(H3,29,31,48)/b13-7-/t10-,11+,12-,14-,15-,17-,18-/m0/s1 |
| InChIKey | GXFAIFRPOKBQRV-GHXCTMGLSA-N |
| SMILES | C1C(NC(=NC1O)N)C2C(=O)NCC(C(=O)NC(C(=O)NC(C(=O)NC(=CNC(=O)N)C(=O)N2)CO)CO)NC(=O)CC(CCCN)N |