Atazanavir- CAS 198904-31-3
Atazanavir is an antiretroviral drug of the protease inhibitor (PI) class. It is sold under the trade name Reyataz. Like other antiretrovirals, it is used to treat infection of human immunodeficiency virus. Atazanavir is distinguished from other PIs in that it can be given once-daily and has lesser effects on the patient/'s lipid profile. Like other protease inhibitors, it is used only in combination with other HIV medications.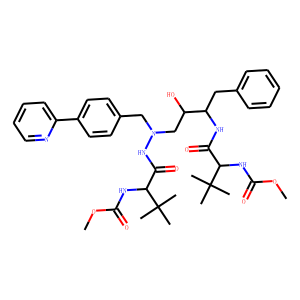 Catalog Number: A000018
CAS Number: 198904-31-3
PubChem Substance ID:355039790
Molecular Formula: C₃₈H₅₂N₆O₇
Molecular Weight:704.86
Purity: ≥95%
* For research use only. Not for human or veterinary use.
Synonym
| | |
| --- | --- |
| Synonyms | Latazanavir, Zrivada, Reyataz, BMS-232632 |
Property
| | |
| --- | --- |
| Molecular Formula: | C₃₈H₅₂N₆O₇ |
| Molecular Weight | 704.86 |
| Target: | HIV Protease |
| Solubility | >28.6mg/mL in DMSO |
| Purity | ≥95% |
| Storage | Store at -20°C |
| MDL | MFCD08435966 |
Computed Descriptor
| | |
| --- | --- |
| InChI | InChI=1S/C38H52N6O7/c1-37(2,3)31(41-35(48)50-7)33(46)40-29(22-25-14-10-9-11-15-25)30(45)24-44(43-34(47)32(38(4,5)6)42-36(49)51-8)23-26-17-19-27(20-18-26)28-16-12-13-21-39-28/h9-21,29-32,45H,22-24H2,1-8H3,(H,40,46)(H,41,48)(H,42,49)(H,43,47)/t29-,30-,31+,3 |
| InChIKey | AXRYRYVKAWYZBR-GASGPIRDSA-N |
| SMILES | CC(C)(C)C(C(=O)NC(CC1=CC=CC=C1)C(CN(CC2=CC=C(C=C2)C3=CC=CC=N3)NC(=O)C(C(C)(C)C)NC(=O)OC)O)NC(=O)OC |