ARV-825 - CAS 1818885-28-7
ARV-825 (Cat.No: I002360) is a BRD4 inhibitor that recruits BRD4 to the E3 ubiquitin ligase cereblon to form a ternary complex, which further causes the degradation of BRD4 protein and continuously down-regulates MYC levels. In comparison with other BRD4 inhibitors, treatment with ARV-825 in Burkitt lymphoma cells resulted in more significant changes in c-MYC levels and downstream cell proliferation and apoptosis induction.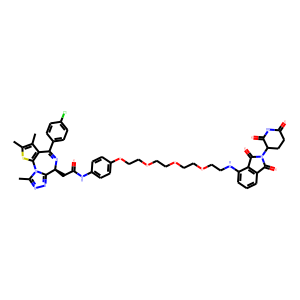 Molecular Formula: C46H47ClN8O9S
Molecular Weight:923.43
* For research use only. Not for human or veterinary use.
Property
| | |
| --- | --- |
| Molecular Formula: | C46H47ClN8O9S |
| Molecular Weight | 923.43 |
| Target: | BRD4 |
| Solubility | 10 mM in DMSO |
| Purity | 98.0% |
| Storage | Store at -20°C |
| IC50 | <1nM (DC50) |
Computed Descriptor
| | |
| --- | --- |
| IUPAC Name | 2-[(9S)-7-(4-chlorophenyl)-4,5,13-trimethyl-3-thia-1,8,11,12-tetrazatricyclo[8.3.0.02,6]trideca-2(6),4,7,10,12-pentaen-9-yl]-N-[4-[2-[2-[2-[2-[[2-(2,6-dioxopiperidin-3-yl)-1,3-dioxoisoindol-4-yl]amino]ethoxy]ethoxy]ethoxy]ethoxy]phenyl]acetamide |
| InChI | InChI=1S/C46H47ClN8O9S/c1-26-27(2)65-46-39(26)41(29-7-9-30(47)10-8-29)50-35(42-53-52-28(3)54(42)46)25-38(57)49-31-11-13-32(14-12-31)64-24-23-63-22-21-62-20-19-61-18-17-48-34-6-4-5-33-40(34)45(60)55(44(33)59)36-15-16-37(56)51-43(36)58/h4-14,35-36,48H,15-25 |
| InChIKey | RWLOGRLTDKDANT-TYIYNAFKSA-N |
| SMILES | O=C(NC1=CC=C(OCCOCCOCCOCCNC2=CC=CC(C(N3C(CC4)C(NC4=O)=O)=O)=C2C3=O)C=C1)C[C@H]5C6=NN=C(C)N6C7=C(C(C)=C(C)S7)C(C8=CC=C(Cl)C=C8)=N5 |