Ampicillin Trihydrate - CAS 7177-48-2
Ampicillin Trihydrate(Cat No.:A000544) also known as Aminobenzylpenicillin trihydrate; Amperil; Ampinova; Trafarbiot. Ampicillin Trihydrate is used as an antibiotic to treat sensitive enterococcus, dysentery bacillus, typhoid bacillus, coliform bacteria, listeria, atherogenic bacillus, influenza bacillus, and proteus mirabilis.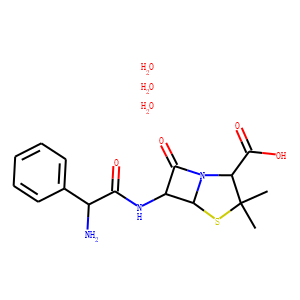 Molecular Formula: C16H25N3O7S
Molecular Weight:403.45
* For research use only. Not for human or veterinary use.
Synonym
| | |
| --- | --- |
| Synonyms | 7177-48-2; Aminobenzylpenicillin trihydrate; Amperil; Ampinova; Trafarbiot |
Property
| | |
| --- | --- |
| Molecular Formula: | C16H25N3O7S |
| Molecular Weight | 403.45 |
| Target: | Transpeptidase Inhibitor |
| Purity | ≥95% |
| Storage | -20°C |
Computed Descriptor
| | |
| --- | --- |
| IUPAC Name | (2S,5R,6R)-6-[[(2R)-2-amino-2-phenylacetyl]amino]-3,3-dimethyl-7-oxo-4-thia-1-azabicyclo[3.2.0]heptane-2-carboxylic acid;trihydrate |
| InChI | InChI=1S/C16H19N3O4S.3H2O/c1-16(2)11(15(22)23)19-13(21)10(14(19)24-16)18-12(20)9(17)8-6-4-3-5-7-8;;;/h3-7,9-11,14H,17H2,1-2H3,(H,18,20)(H,22,23);3*1H2/t9-,10-,11+,14-;;;/m1.../s1 |
| InChIKey | RXDALBZNGVATNY-CWLIKTDRSA-N |
| SMILES | CC1(C(N2C(S1)C(C2=O)NC(=O)C(C3=CC=CC=C3)N)C(=O)O)C.O.O.O |