Amlodipine Besylate - CAS 111470-99-6
Amlodipine Besylate is a long-acting calcium channel blocker, used to lower blood pressure and prevent chest pain.
Amlodipine besylate reduces the declines in p85aPI3K, phosphorylated Akt, phosphorylated GSK-3β, heat-shock transcription factor-1, and Bcl-2 induced by H(2) O(2) , as well as the increases in cyclooxygenase-2, cytosolic cytochrome c, cleaved caspase 9, and cleaved caspase 3 in neuronal cell.
Amlodipine besylate significantly decreases average indirect systolic blood pressure measurements from 198 mmHg to 155 mmHg in the cats. Amlodipine besylate appears to be a safe and effective oral treatment for systemic hypertension in cats when used chronically once daily as a single agent.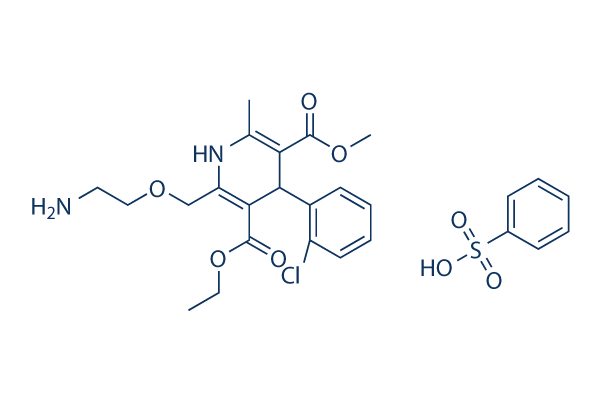 Molecular Formula: C20H25ClN2O5.C6H6O3S
Molecular Weight:567.05
* For research use only. Not for human or veterinary use.
Synonym
Property
| | |
| --- | --- |
| Molecular Formula: | C20H25ClN2O5.C6H6O3S |
| Molecular Weight | 567.05 |
| Target: | Calcium Channel |
| Solubility | >26.1mg/mL in DMSO |
| Purity | ≥95% |
| Storage | 3 years -20C powder |