Cyclohexanone- CAS 108-94-1
Cyclohexanone (Cat No.: R022013) is an important chemical raw material and industrial solvent, and an intermediate for the manufacture of nylon, caprolactam, and adipic acid. It is also an important industrial solvent, such as an excellent solvent for paints, organophosphorus pesticides, and many similar pesticides, and sometimes used as a homogenizer for dyeing and fading, a degreaser for polishing metals, and a dye paint for wood.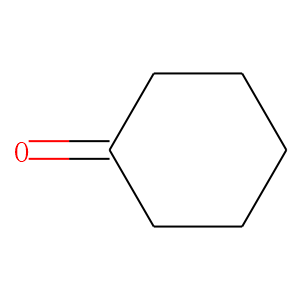 Catalog Number: R022013
CAS Number: 108-94-1
PubChem Substance ID:355157085
Molecular Formula: C6H10O
Molecular Weight:98.145
Purity: ≥95%
* For research use only. Not for human or veterinary use.
Synonym
| | |
| --- | --- |
| Synonyms | Anon; Anone; Hexanon; Hytrol O; NSC 5711; Nadone; Pimelic ketone; Pimelin ketone; Sextone; |
Property
| | |
| --- | --- |
| Molecular Formula: | C6H10O |
| Molecular Weight | 98.145 |
| Purity | ≥95% |
| Storage | Store at -20°C |
Computed Descriptor
| | |
| --- | --- |
| IUPAC Name | cyclohexanone |
| InChI | InChI=1S/C6H10O/c7-6-4-2-1-3-5-6/h1-5H2 |
| InChIKey | JHIVVAPYMSGYDF-UHFFFAOYSA-N |
| SMILES | C1CCC(=O)CC1 |