20β-Dihydrocortisol - CAS 116-58-5

20β-Dihydrocortisol (CAS 116-58-5) could be used as a potential non invasive diagnostic test of transmissible spongiform encephalopaties. 20β-Dihydrocortisol is a metabolite of Cortisol, a steroid hormone, more specifically a glucocorticoid, produced by the zona fasciculata of the adrenal gland. Cortisol is released in response to stress and a low level of blood glucocorticoids. Its primary functions are to increase blood sugar through gluconeogenesis; suppress the immune system; and aid in fat, protein and carbohydrate metabolism.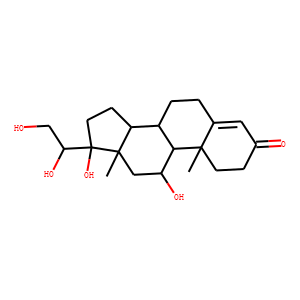 Molecular Formula: C21H32O5
Molecular Weight:364.482
* For research use only. Not for human or veterinary use.
Synonym
| | |
| --- | --- |
| Synonyms | 11β,17,20β,21-Tetrahydroxy-pregn-4-en-3-one; 11β,17,20β,21-Tetrahydroxy-4-pregnen-3-one; 11β,17α,20β,21-Tetrahydroxy-pregn-4-en-3-one; 17-(1,2-Dihydroxyethyl)androsten-3-one-11,17-diol; 20β-Hydroxycortisol; 4-Pregene-11β,17α,20β,21-tetrol-3-one; 4-Pr |
Property
| | |
| --- | --- |
| Molecular Formula: | C21H32O5 |
| Molecular Weight | 364.482 |
| Purity | ≥95% |
| Storage | Store at -80C |
Computed Descriptor
| | |
| --- | --- |
| IUPAC Name | (8S,9S,10R,11S,13S,14S,17R)-17-[(1R)-1,2-dihydroxyethyl]-11,17-dihydroxy-10,13-dimethyl-2,6,7,8,9,11,12,14,15,16-decahydro-1H-cyclopenta[a]phenanthren-3-one |
| InChI | InChI=1S/C21H32O5/c1-19-7-5-13(23)9-12(19)3-4-14-15-6-8-21(26,17(25)11-22)20(15,2)10-16(24)18(14)19/h9,14-18,22,24-26H,3-8,10-11H2,1-2H3/t14-,15-,16-,17+,18+,19-,20-,21-/m0/s1 |
| InChIKey | AWWCEQOCFFQUKS-LCGKLAOVSA-N |
| SMILES | CC12CCC(=O)C=C1CCC3C2C(CC4(C3CCC4(C(CO)O)O)C)O |