Zoledronic acid hydrate- CAS 165800-06-6

Zoledronic acid monohydrate(CGP 42446; ZOL 446) (CAS 165800-06-6) is an activator of protein kinase C with apoptotic effects on multiple myeloma cell lines. It inhibited proliferation of human foetal osteoblastic cell line (hFOB) with an IC50 of 40 uM.

Zoledronic acid at doses of 2.0 and 4.0 mg and pamidronate at a dose of 90 mg each significantly reduced the need for radiation therapy to bone (P < 0.05) in contrast with 0.4 mg zoledronic acid, which did not. Skeletal-related events of any kind, pathologic fractures, and hypercalcemia also occurred less frequently in patients treated with 2.0 or 4.0 mg zoledronic acid or pamidronate than with 0.4 mg zoledronic acid [1]. Zoledronic acid administration may be a potentially valuable adjunct to distraction osteogenesis treatment, to enhance bone strength, thus reducing refracture complications [2]. Zoledronic acid, a more recent drug, was compared with pamidronic acid in two clinical trials, but the results are unconvincing because of the unusually poor performance of pamidronic acid. Safety of zoledronic acid is uncertain, owing to a lack of long-term data [3].

Clinical indications: Bone metastases; Breast tumor; Complex regional pain syndrome; Hypercalcemia; Lower back pain; Male osteoporosis; Mesothelioma; Metastasis; Metastatic breast cancer; Multiple myeloma; Osteoarthritis; Osteogenesis imperfecta

FDA Approved Date: 2007

Toxicity: Overdosage may cause clinically significant hypocalcemia, hypophosphatemia, and hypomagnesemia.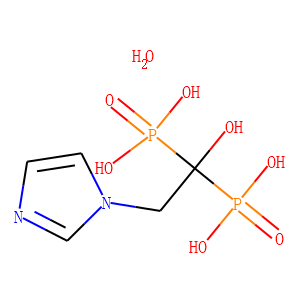 Catalog Number: I002170
CAS Number: 165800-06-6
PubChem Substance ID:355039503
Molecular Formula: C5H12N2O8P2
Molecular Weight:290.1
Purity: ≥95%
* For research use only. Not for human or veterinary use.
Synonym
| | |
| --- | --- |
| Synonyms | P,P/'-[1-hydroxy-2-(1H-imidazol-1-yl)ethylidene]bis-phosphonic acid, monohydrate |
Property
| | |
| --- | --- |
| Molecular Formula: | C5H12N2O8P2 |
| Molecular Weight | 290.1 |
| Target: | PKC |
| Solubility | water:7 mg/ml |
| Purity | ≥95% |
| Storage | -20°C |
| MDL | MFCD08448695 |
Computed Descriptor
| | |
| --- | --- |
| IUPAC Name | (1-hydroxy-2-imidazol-1-yl-1-phosphonoethyl)phosphonic acid;hydrate |
| InChI | InChI=1S/C5H10N2O7P2.H2O/c8-5(15(9,10)11,16(12,13)14)3-7-2-1-6-4-7;/h1-2,4,8H,3H2,(H2,9,10,11)(H2,12,13,14);1H2 |
| InChIKey | FUXFIVRTGHOMSO-UHFFFAOYSA-N |
| SMILES | C1=CN(C=N1)CC(O)(P(=O)(O)O)P(=O)(O)O.O |