Zoledronic acid hydrate - CAS 165800-06-6
Zoledronic acid hydrate (CAT: I0021706) is a bisphosphonate drug used for the treatment of bone diseases such as osteoporosis and bone metastases. It works by inhibiting the activity of osteoclasts, which are responsible for bone resorption. Zoledronic acid specifically targets the bone, where it is taken up by osteoclasts and inhibits their function, leading to a decrease in bone breakdown. This medication is typically administered intravenously and has a long duration of action, with a single dose providing therapeutic effects for several months. Zoledronic acid hydrate is an important therapeutic option in the management of various bone-related conditions.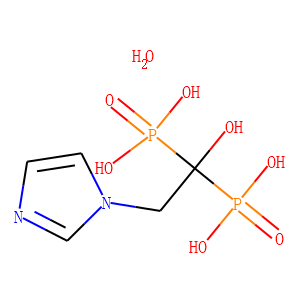 Molecular Formula: C5H12N2O8P2
Molecular Weight:290.1
* For research use only. Not for human or veterinary use.
Synonym
| | |
| --- | --- |
| Synonyms | P,P/'-[1-hydroxy-2-(1H-imidazol-1-yl)ethylidene]bis-phosphonic acid, monohydrate |
Property
| | |
| --- | --- |
| Molecular Formula: | C5H12N2O8P2 |
| Molecular Weight | 290.1 |
| Target: | PKC |
| Solubility | water:7 mg/ml |
| Purity | ≥95% |
| Storage | -20°C |
| MDL | MFCD08448695 |
Computed Descriptor
| | |
| --- | --- |
| IUPAC Name | (1-hydroxy-2-imidazol-1-yl-1-phosphonoethyl)phosphonic acid;hydrate |
| InChI | InChI=1S/C5H10N2O7P2.H2O/c8-5(15(9,10)11,16(12,13)14)3-7-2-1-6-4-7;/h1-2,4,8H,3H2,(H2,9,10,11)(H2,12,13,14);1H2 |
| InChIKey | FUXFIVRTGHOMSO-UHFFFAOYSA-N |
| SMILES | C1=CN(C=N1)CC(O)(P(=O)(O)O)P(=O)(O)O.O |