YPDCHSCXSRCQBT-UHFFFAOYSA-N - CAS 183300-31-4
Fingolimod(CAT: M156226), also known as Gilenya, is a medication used to treat multiple sclerosis (MS). Fingolimod works by acting as a sphingosine-1-phosphate receptor modulator, which helps to reduce the frequency of MS relapses and slows down the progression of disability associated with the disease. The compound was approved by the US Food and Drug Administration (FDA) in 2010 for the treatment of relapsing-remitting multiple sclerosis. Fingolimod has also been investigated for its potential use in the treatment of other autoimmune and inflammatory conditions.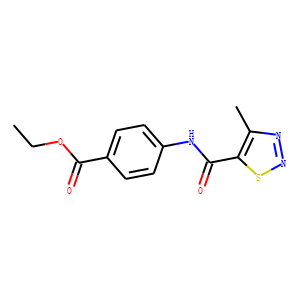 Molecular Formula: C13H13N3O3S
Molecular Weight:291.325
* For research use only. Not for human or veterinary use.
Property
| | |
| --- | --- |
| Molecular Formula: | C13H13N3O3S |
| Molecular Weight | 291.325 |
| Purity | ≥95% |
Computed Descriptor
| | |
| --- | --- |
| IUPAC Name | ethyl 4-[(4-methylthiadiazole-5-carbonyl)amino]benzoate |
| InChI | InChI=1S/C13H13N3O3S/c1-3-19-13(18)9-4-6-10(7-5-9)14-12(17)11-8(2)15-16-20-11/h4-7H,3H2,1-2H3,(H,14,17) |
| InChIKey | YPDCHSCXSRCQBT-UHFFFAOYSA-N |
| SMILES | CCOC(=O)C1=CC=C(C=C1)NC(=O)C2=C(N=NS2)C |