YH-53- CAS 1471484-62-4
YH-53 is 3CL Protease Inhibitor with an Electrophilic Arylketone Moiety as Anti-SARS-CoV‑2 Agent. YH-53 can strongly block the SARSCoV-2 replication. X-ray structural analysis revealed that YH-53 establishes multiple hydrogen bond interactions with backbone amino acids and a covalent bond with the active site of 3CLpro. Further results from computational and experimental studies, including an in vitro absorption, distribution, metabolism, and excretion profile, in vivo pharmacokinetics, and metabolic analysis of YH-53 suggest that it has a high potential as a lead candidate to compete with COVID-19.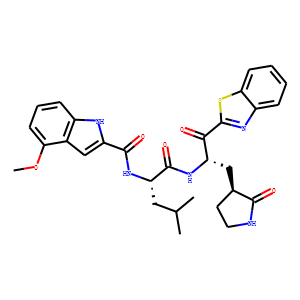 Molecular Formula: C30H33N5O5S
Molecular Weight:575.684
* For research use only. Not for human or veterinary use.
Synonym
| | |
| --- | --- |
| Synonyms | YH-53; YH53; YH 53; |
Property
| | |
| --- | --- |
| Molecular Formula: | C30H33N5O5S |
| Molecular Weight | 575.684 |
| Solubility | To be determined |
| Purity | 98.0% |
| Storage | Dry, dark and at 0 - 4 C for short term (days to weeks) or -20 C for long term (months to years). |
Computed Descriptor
| | |
| --- | --- |
| IUPAC Name | N-((S)-1-(((S)-1-(benzo[d]thiazol-2-yl)-1-oxo-3-((S)-2-oxopyrrolidin-3-yl)propan-2-yl)amino)-4-methyl-1-oxopentan-2-yl)-4-methoxy-1H-indole-2-carboxamide |
| InChI | InChI=1S/C30H33N5O5S/c1-16(2)13-22(34-29(39)23-15-18-19(32-23)8-6-9-24(18)40-3)28(38)33-21(14-17-11-12-31-27(17)37)26(36)30-35-20-7-4-5-10-25(20)41-30/h4-10,15-17,21-22,32H,11-14H2,1-3H3,(H,31,37)(H,33,38)(H,34,39)/t17-,21-,22-/m0/s1 |
| InChIKey | JBLLRCOZJMVOAE-HSQYWUDLSA-N |
| SMILES | COC1=CC=CC2=C1C=C(C(N[[email protected]@H](CC(C)C)C(N[[email protected]](C(C3=NC(C=CC=C4)=C4S3)=O)C[[email protected]@H]5CCNC5=O)=O)=O)N2 |