Y-27632 - CAS 146986-50-7
Y-27632 (Cat No.:I001786) is an orally active, ATP-competitive ROCK-I and ROCK-II inhibitor with Ki of 220nM and 300nM, respectively. Y-27632 induces apoptosis. Y-27632 induces selective differentiation of human induced pluripotent stem cells (hIPSCs) into the mesendermal lineage through epithelial-mesenchymal transition-like regulation.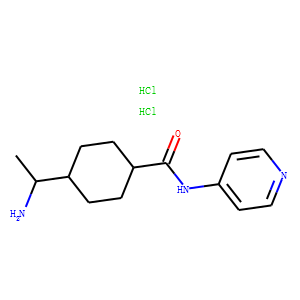 Molecular Formula: C₁₄H₂₁N₃O.2HCl
Molecular Weight:320.26
* For research use only. Not for human or veterinary use.
Synonym
| | |
| --- | --- |
| Synonyms | 4-[(1R)-1-aminoethyl]-N-pyridin-4-ylcyclohexane-1-carboxamide |
Property
| | |
| --- | --- |
| Molecular Formula: | C₁₄H₂₁N₃O.2HCl |
| Molecular Weight | 320.26 |
| Target: | ROCK |
| Solubility | DMSO: ≥ 32 mg/mL |
| Purity | ≥95% |
| Storage | Store at -20C |
| MDL | MFCD03490488 |
| Related CAS. | 129830-38-2(hydrochloride) |
| IC50 | 140 nM (Ki) |
Computed Descriptor
| | |
| --- | --- |
| InChI | InChI=1S/C14H21N3O.2ClH/c1-10(15)11-2-4-12(5-3-11)14(18)17-13-6-8-16-9-7-13;;/h6-12H,2-5,15H2,1H3,(H,16,17,18);2*1H/t10-,11?,12?;;/m1../s1 |
| InChIKey | IDDDVXIUIXWAGJ-DDSAHXNVSA-N |
| SMILES | CC(C1CCC(CC1)C(=O)NC2=CC=NC=C2)N.Cl.Cl |