Y-27632 dihydrochloride - CAS 129830-38-2
Y-27632 dihydrochloride(CAT: I010113) is a selective ROCK inhibitor, which inhibits ET-1-induced increases in natriuretic peptide production, cell size, protein synthesis, and myofibrillar organization. Y27632 affects the process of apoptosis, cell cycle, and proliferation. This product is used for medical research and development and other scientific research purposes.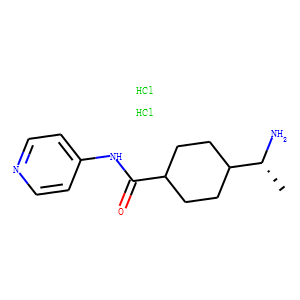 Molecular Formula: C14H21N3O • 2HCl
Molecular Weight:320.3
* For research use only. Not for human or veterinary use.
Synonym
| | |
| --- | --- |
| Synonyms | Y27632; Y-27632; Y 27632; Y27632 HCl; Y27632 dihydrochloride;(1R,4r)-4-((R)-1-aminoethyl)-N-(pyridin-4-yl)cyclohexanecarboxamide dihydrochloride |
Property
| | |
| --- | --- |
| Molecular Formula: | C14H21N3O • 2HCl |
| Molecular Weight | 320.3 |
| Target: | ROCK |
| Solubility | Soluble in DMSO, not in water |
| Purity | ≥95% |
| Storage | Desiccate at RT |
Computed Descriptor
| | |
| --- | --- |
| InChI | InChI=1S/C14H21N3O.2ClH/c1-10(15)11-2-4-12(5-3-11)14(18)17-13-6-8-16-9-7-13;;/h6-12H,2-5,15H2,1H3,(H,16,17,18);2*1H/t10-,11-,12-;;/m1../s1 |
| InChIKey | IDDDVXIUIXWAGJ-JXIQBYSYSA-N |
| SMILES | O=C([C@H]1CCC([C@H](N)C)CC1)NC2=CC=NC=C2.Cl.Cl |