VT-103 - CAS 2290608-13-6
VT-103 (CAT: I038128) is a potent and selective TEAD auto-palmitoylation inhibitor. It shows promising efficacy in inhibiting the proliferation and tumor growth of NF2-deficient mesothelioma. VT-103 is a TEAD1-selective inhibitor, downregulating Hippo pathway target genes. It exhibits good oral bioavailability, long half-lives, and inhibits tumor growth, leading to shrinkage of established tumors in preclinical models of human mesothelioma deficient in functional Merlin. VT-103 holds potential as a therapeutic agent and warrants further investigation as a treatment for NF2-deficient mesothelioma.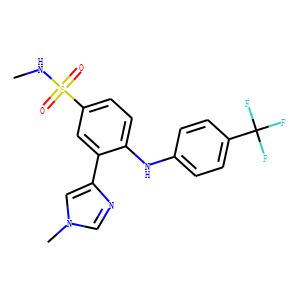 Molecular Formula: C18H17F3N4O2S
Molecular Weight:410.42
* For research use only. Not for human or veterinary use.
Synonym
| | |
| --- | --- |
| Synonyms | VT-103; VT 103; VT103 |
Property
| | |
| --- | --- |
| Molecular Formula: | C18H17F3N4O2S |
| Molecular Weight | 410.42 |
| Solubility | To be determined |
| Purity | 98.0% |
| Storage | Dry, dark and at 0 - 4 C for short term (days to weeks) or -20 C for long term (months to years). |
Computed Descriptor
| | |
| --- | --- |
| IUPAC Name | N-methyl-3-(1-methyl-1H-imidazol-4-yl)-4-((4-(trifluoromethyl)phenyl)amino)benzenesulfonamide |
| InChI | InChI=1S/C18H17F3N4O2S/c1-22-28(26,27)14-7-8-16(15(9-14)17-10-25(2)11-23-17)24-13-5-3-12(4-6-13)18(19,20)21/h3-11,22,24H,1-2H3 |
| InChIKey | LLCVDQHLYHBAHR-UHFFFAOYSA-N |
| SMILES | CN1C=NC(C2=C(NC3=CC=C(C(F)(F)F)C=C3)C=CC(S(=O)(NC)=O)=C2)=C1 |