Vinyl Acetate(Stabilized with 8-12 ppm Hydroquinone) - CAS 108-05-4
Alcohols, C13-15-branched and linear, butoxylated ethoxylated (Cat.No:R022199) are a group of versatile non-ionic surfactants. They find extensive use in various industries such as detergents, textiles, and agriculture. These compounds are effective emulsifiers and wetting agents, enhancing the stability and performance of formulations while reducing surface tension.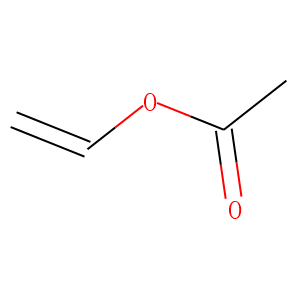 Molecular Formula: C4H6O2
Molecular Weight:86.09
* For research use only. Not for human or veterinary use.
Synonym
| | |
| --- | --- |
| Synonyms | Acetic Acid Vinyl Ester; 1-Acetoxyethylene; Acetic Acid Ethenyl Ester; Acetoxyethene; Acetoxyethylene; Ethenyl Acetate; NSC 8404; SN 12T; Vinyl A Monomer; Vinyl Acetate |
Property
| | |
| --- | --- |
| Molecular Formula: | C4H6O2 |
| Molecular Weight | 86.09 |
| Purity | ≥95% |
| Storage | -20°C |
Computed Descriptor
| | |
| --- | --- |
| IUPAC Name | ethenyl acetate |
| InChI | InChI=1S/C4H6O2/c1-3-6-4(2)5/h3H,1H2,2H3 |
| InChIKey | XTXRWKRVRITETP-UHFFFAOYSA-N |
| SMILES | CC(=O)OC=C |