Vildagliptin - CAS 274901-16-5
Vildagliptin (CAS 274901-16-5), also known as, LAF237, trade name ZOMELIS, is an oral anti-hyperglycemic agent (anti-diabetic drug) of the new dipeptidyl peptidase-4 (DPP-4) inhibitor class of drugs. Vildagliptin inhibits the inactivation of GLP-1 and GIP by DPP-4, allowing GLP-1 and GIP to potentiate the secretion of insulin in the beta cells and suppress glucagon release by the alpha cells of the islets of Langerhans in the pancreas. Vildagliptin has been shown to reduce hyperglycemia in type 2 diabetes mellitus.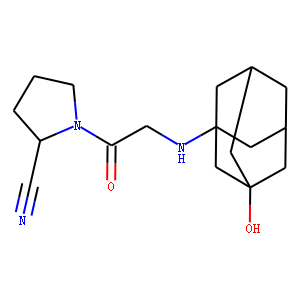 Molecular Formula: C₁₇H₂₅N₃O₂
Molecular Weight:303.4
* For research use only. Not for human or veterinary use.
Synonym
Property
| | |
| --- | --- |
| Molecular Formula: | C₁₇H₂₅N₃O₂ |
| Molecular Weight | 303.4 |
| Target: | DPP-4 |
| Solubility | >12.1mg/mL in DMSO |
| Purity | ≥95% |
| Storage | 3 years -20C powder |
| MDL | MFCD08275142 |
| Overview of Clinical Research | Novartis has since withdrawn its intent to submit vildagliptin to the FDA, as of July 2008. It was approved in Feb 2008 by European Medicines Agency for use within the EU and is listed on the Australian PBS with certain restrictions. |
Computed Descriptor
| | |
| --- | --- |
| IUPAC Name | (2S)-1-[2-[(3-hydroxy-1-adamantyl)amino]acetyl]pyrrolidine-2-carbonitrile |
| InChI | InChI=1S/C17H25N3O2/c18-9-14-2-1-3-20(14)15(21)10-19-16-5-12-4-13(6-16)8-17(22,7-12)11-16/h12-14,19,22H,1-8,10-11H2/t12?,13?,14-,16?,17?/m0/s1 |
| InChIKey | SYOKIDBDQMKNDQ-XWTIBIIYSA-N |
| SMILES | C1CC(N(C1)C(=O)CNC23CC4CC(C2)CC(C4)(C3)O)C#N |