Ursodeoxycholic acid- CAS 128-13-2
Ursodeoxycholic acid(CAT: A000588) is one of the components of human bile. It is used in medicine to increase the secretion of bile acid, and reduce cholesterol and cholesterol lipids in bile, which is conducive to the gradual dissolution of cholesterol in gallstones. Recent research has found that it may be used to prevent COVID-19. This product is used for medical research and development and other scientific research purposes.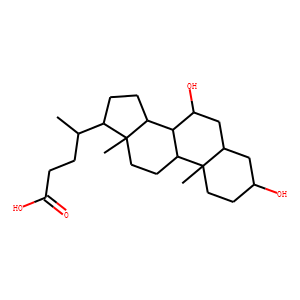 Molecular Formula: C24H40O4
Molecular Weight:392.57
Purity: ≥95%
Inventory:In stock
* For research use only. Not for human or veterinary use.
Synonym
| | |
| --- | --- |
| Synonyms | URSODEOXYCHOLIC ACID; Ursodiol; 128-13-2; Actigall; Ursofalk; Ursolvan |
Property
| | |
| --- | --- |
| Molecular Formula: | C24H40O4 |
| Molecular Weight | 392.57 |
| Purity | ≥95% |
| Storage | -20°C |
| Overview of Clinical Research | Ursodeoxycholic acid is an apoptosis inhibitor as well as a cholesterol inhibitor. The pilot study on fecal bile acids composition of IBD patients was completed in Aug, 2020. |
Computed Descriptor
| | |
| --- | --- |
| IUPAC Name | (4R)-4-[(3R,5S,7S,8R,9S,10S,13R,14S,17R)-3,7-dihydroxy-10,13-dimethyl-2,3,4,5,6,7,8,9,11,12,14,15,16,17-tetradecahydro-1H-cyclopenta[a]phenanthren-17-yl]pentanoic acid |
| InChI | 1S/C24H40O4/c1-14(4-7-21(27)28)17-5-6-18-22-19(9-11-24(17,18)3)23(2)10-8-16(25)12-15(23)13-20(22)26/h14-20,22,25-26H,4-13H2,1-3H3,(H,27,28)/t14-,15+,16-,17-,18+,19+,20+,22+,23+,24-/m1/s1 |
| InChIKey | RUDATBOHQWOJDD-UZVSRGJWSA-N |
| SMILES | CC(CCC(=O)O)C1CCC2C1(CCC3C2C(CC4C3(CCC(C4)O)C)O)C |