Ubiquinol - CAS 992-78-9
Ubiquinol(CAT: R009056) is the reduced form of Coenzyme Q10 (CoQ10) and is an important antioxidant that helps to protect cells from oxidative damage. It is found naturally in many foods, including fish, meat, and whole grains, and is also available in supplement form.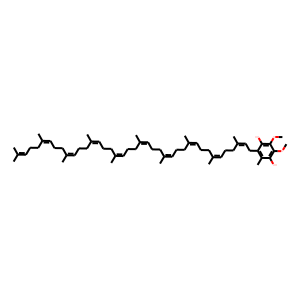 Molecular Formula: C59H92O4
Molecular Weight:865.4
* For research use only. Not for human or veterinary use.
Synonym
| | |
| --- | --- |
| Synonyms | 2-[(2E,6E,10E,14E,18E,22E,26E,30E,34E)-3,7,11,15,19,23,27,31,35,39-Decamethyl?-2,6,10,14,18,22,26,30,34,38-tetracontadecaen-1-yl]-5,6-dimethoxy-3-methyl-?1,4-benzenediol; Dihydrocoenzyme Q10; Reduced Coenzyme Q10; Reduced Ubiquinone Q10; Ubiquinol 50 |
Property
| | |
| --- | --- |
| Molecular Formula: | C59H92O4 |
| Molecular Weight | 865.4 |
| Purity | ≥95% |
| Storage | -20°C |
| Overview of Clinical Research | A randomized,double-blind placebo-controlled phase III trial of coenzyme Q10 in Gulf War illness starts in 2020, mainly about the effects of Ubiquinol on chronic fatigue syndrome.  |
Computed Descriptor
| | |
| --- | --- |
| InChI | InChI=1S/C59H92O4/c1-44(2)24-15-25-45(3)26-16-27-46(4)28-17-29-47(5)30-18-31-48(6)32-19-33-49(7)34-20-35-50(8)36-21-37-51(9)38-22-39-52(10)40-23-41-53(11)42-43-55-54(12)56(60)58(62-13)59(63-14)57(55)61/h24,26,28,30,32,34,36,38,40,42,60-61H,15-23,25,27,29,31,33,35,37,39,41,43H2,1-14H3/b45-26+,46-28+,47-30+,48-32+,49-34+,50-36+,51-38+,52-40+,53-42+ |
| InChIKey | QNTNKSLOFHEFPK-FPXYFCFXSA-N |
| SMILES | COc1c(O)c(C)c(CC=C(/C)CCC=C(/C)CCC=C(/C)CCC=C(/C)CCC=C(/C)CCC=C(/C)CCC=C(/C)CCC=C(/C)CCC=C(/C)CCC=C(C)C)c(O)c1OC |