Triethyl Orthoacetate- CAS 78-39-7
Triethyl orthoacetate (Cat No.:R021038) is an important intermediate for the synthesis of ethyl permethric acid, and is also used in the preparation of alkenes such as trans-tri-substituted alkenes and chiral propadiene, and as a raw material for the dye and pharmaceutical industries.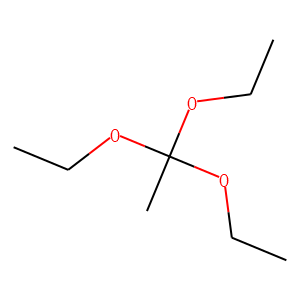 Molecular Formula: C8H18O3
Molecular Weight:162.229
* For research use only. Not for human or veterinary use.
Synonym
| | |
| --- | --- |
| Synonyms | 1,1,1-Triethoxyethane; Orthoacetic Acid Triethyl Ester; Ethyl Orthoacetate; NSC 5596; |
Property
| | |
| --- | --- |
| Molecular Formula: | C8H18O3 |
| Molecular Weight | 162.229 |
| Purity | ≥95% |
| Storage | Store at -20°C |
Computed Descriptor
| | |
| --- | --- |
| IUPAC Name | 1,1,1-triethoxyethane |
| InChI | InChI=1S/C8H18O3/c1-5-9-8(4,10-6-2)11-7-3/h5-7H2,1-4H3 |
| InChIKey | NDQXKKFRNOPRDW-UHFFFAOYSA-N |
| SMILES | CCOC(C)(OCC)OCC |