Traumatic Acid - CAS 6402-36-4
Traumatic acid is a product of the hydroperoxide lyase pathway in plants. It is a wound healing agent that stimulates cell division near a wound site to form a protective callus.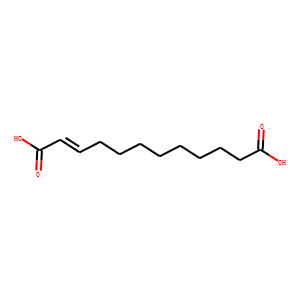 Molecular Formula: C12H20O4
Molecular Weight:228.288
* For research use only. Not for human or veterinary use.
Synonym
| | |
| --- | --- |
| Synonyms | (E)-2-Dodecenedioic Acid; trans-2-Dodecenedioic Acid; trans-Traumatic Acid |
Property
| | |
| --- | --- |
| Molecular Formula: | C12H20O4 |
| Molecular Weight | 228.288 |
| Purity | ≥95% |
| Storage | -20°C |
Computed Descriptor
| | |
| --- | --- |
| IUPAC Name | (E)-dodec-2-enedioic acid |
| InChI | InChI=1S/C12H20O4/c13-11(14)9-7-5-3-1-2-4-6-8-10-12(15)16/h7,9H,1-6,8,10H2,(H,13,14)(H,15,16)/b9-7+ |
| InChIKey | MAZWDMBCPDUFDJ-VQHVLOKHSA-N |
| SMILES | C(CCCCC(=O)O)CCCC=CC(=O)O |