Tolazamide - CAS 1156-19-0
Tolazamide(Cat No.:I000571) is an oral medication commonly prescribed for individuals with Type 2 diabetes. It belongs to the class of drugs known as sulfonylureas, which work by stimulating the release of insulin from the pancreas and improving insulin sensitivity in peripheral tissues. By lowering blood glucose levels, tolazamide helps to manage and control diabetes.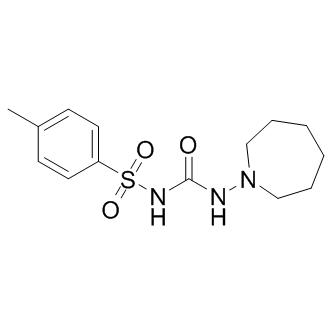 Molecular Formula: C14H21N3O3S
Molecular Weight:311.40
* For research use only. Not for human or veterinary use.
Property
| | |
| --- | --- |
| Molecular Formula: | C14H21N3O3S |
| Molecular Weight | 311.40 |
| Solubility | DMSO:42mg/mL |
| Purity | ≥95% |
| Storage | Room Temperature |
Computed Descriptor
| | |
| --- | --- |
| IUPAC Name | 1-(azepan-1-yl)-3-(4-methylphenyl)sulfonylurea |
| InChI | InChI=1S/C14H21N3O3S/c1-12-6-8-13(9-7-12)21(19,20)16-14(18)15-17-10-4-2-3-5-11-17/h6-9H,2-5,10-11H2,1H3,(H2,15,16,18) |
| InChIKey | OUDSBRTVNLOZBN-UHFFFAOYSA-N |
| SMILES | CC1=CC=C(C=C1)S(=O)(=O)NC(=O)NN2CCCCCC2 |