TITANIUM HYDROXIDE - CAS 12651-23-9
TITANIUM HYDROXIDE (CAT: M061455) is an amphoteric HYDROXIDE commonly used as a mordant and acetylene polymerization catalyst. This product is used in organic synthesis, environmental science, and other scientific research fields.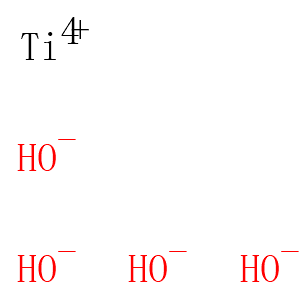 Molecular Formula: H4O4Ti
Molecular Weight:115.895
* For research use only. Not for human or veterinary use.
Synonym
| | |
| --- | --- |
| Synonyms | Titanium hydroxide; Tetrahydroxytitanium |
Property
| | |
| --- | --- |
| Molecular Formula: | H4O4Ti |
| Molecular Weight | 115.895 |
| Purity | ≥95% |
| Storage | -20°C |
Computed Descriptor
| | |
| --- | --- |
| IUPAC Name | titanium(4+);tetrahydroxide |
| InChI | InChI=1S/4H2O.Ti/h4*1H2;/q;;;;+4/p-4 |
| InChIKey | LLZRNZOLAXHGLL-UHFFFAOYSA-J |
| SMILES | [OH-].[OH-].[OH-].[OH-].[Ti+4] |